BHUTAN TOUR
24 days
Bhutan, a dream trip come true! Nestled in the spectacular mountains of the eastern Himalayas, Bhutan is a visual delight. Mostly forested below timber line, the country is a naturalist's dream. It has a higher percentage (about 70%) of its land area in forest than anyother country in Asia and most of that forest is still in good shape. Because Bhutan has limited the number of tourists who can enter, it is still relatively unspoiled. Strict laws and Buddhist sentiment against hunting and trapping have resulted in many birds being less shy than elsewhere. This is especially true of tragopans and other pheasants. If Shangri-la exists, it is in Bhutan.
Bhutan is little known ornithologically and thus presents us with the possibility of discovery. What is known of the fauna is that it is quite rich and consists mainly of forest birds. Our total list will be about 280 species. Some species we are likely to see are: Himalayan Griffon, Himalayan Buzzard (Buteo burmanicus), Black Eagle, Mountain Hawk-Eagle, Blood Pheasant, Satyr Tragopan, Himalayan Monal, Kalij Pheasant, Black-tailed Crake, Ibisbill, Speckled Wood-Pigeon, Hodgson's Hawk-Cuckoo (Hierococcyx nisicolor), Grey Nightjar (Caprimulgus jotaka), White-throated Needletail, Red-headed and Ward's Trogons, Blue-bearded Bee-eater, Crested Kingfisher, Rufous-necked Hornbill, Yellow-rumped Honeyguide, Rufous-bellied, Darjeeling and Bay Woodpeckers, Nepal House-Martin, White-throated Bulbul, Alpine and Rufous-breasted Accentors, Himalayan Bush-Robin (Tarsiger rufilatus), Hodgson's and Blue-fronted Redstarts, White-tailed Robin, Little and Spotted Forktails, Blue-capped and Chestnut-bellied Rockthrushes, White-collared and Grey-winged Blackbirds, all 3 tesias, Hume's Bush-Warbler (Cettia brunnescens), Yellow-vented, Grey-hooded, White-spectacled, Grey-cheeked, Broad-billed, Rufous-faced, and Black-faced Warblers, Dark-sided, and Ultramarine Flycatchers, Small and Rufous-bellied Niltavas, Pale Blue and Pygmy Blue Flycatchers, Yellow-bellied Fantail, Rufous-fronted, Yellow-cheeked, Yellow-browed and Sultan Tits, White-tailed Nuthatch, Gould's, Green-tailed and Fire-tailed Sunbirds, Crested Bunting, Dark-rumped and White-browed Rosefinches, Scarlet Finch, Brown and Red-headed Bullfinches, Collared and White-winged Grosbeaks, Gold-naped Finch, Russet Sparrow, Maroon Oriole, Gold-billed and Green Magpies, Spotted Nutcracker, and Red-billed Chough.

These photos were taken by Paul Thomas on the 2006 KingBird Bhutan Tour. Click here for more Bhutan photos.
Bhutan is close to the epicenter of babbler distribution and these fascinating birds will form a significant part of our list, e.g., 5 scimitar-babblers (including Coral-billed and Slender-billed), 7 wren-babblers (including Long-billed, Rufous-throated, Bar-winged, Spotted, and Wedge-billed), 12-14 laughingthrushes (including White-throated, Striated, Rufous-chinned, Spotted, Grey-sided, Rufous-necked, Bhutan [Garrulax imbricatum], Blue-winged, Scaly, and Black-faced), Red-faced Liocichla, Silver-eared Mesia, Red-billed Leiothrix, Cutia, Black-headed, Green, and Black-eared Shrike-Babblers, 2 barwings, all 3 minlas, 5 fulvettas (including Golden-breasted and Yellow-throated), Rufous Sibia, 7 yuhinas, Fire-tailed Myzornis, etc. Six parrotbills are possible: Great, Brown, Fulvous (maybe), Black-throated, Rufous-headed, and Grey-headed (maybe).
We have a good chance of finding the following species: Pallas's Fish-Eagle, Hill and Chestnut-breasted Partridges, Snow Pigeon, Asian Emerald Cuckoo, Tawny Fish-Owl, Great and Wreathed Hornbills, Crimson-breasted Woodpecker, Long-tailed Broadbill, Himalayan Bulbul, Golden, White-browed and Rufous-breasted Bush-Robins, Plain-backed and Long-tailed Thrushes, Russet Bush-Warbler (Bradypterus mandelli), Ferruginous, White-gorgetted and Sapphire Flycatchers, Fire-capped Tit, Beautiful Nuthatch, Rusty-flanked Treecreeper, Tibetan Serin, Yellow-breasted Greenfinch, Plain Mountain-Finch, Crimson-browed Finch, and Spot-winged Grosbeak. With luck we might see: White-bellied Heron, Rufous-throated Partridge, Ashy Wood-Pigeon, Pin-tailed Pigeon, Chestnut-winged Cuckoo, Solitary Snipe, Blue-fronted Robin, Long-billed Thrush, Purple Cochoa, Yellow-bellied Flowerpecker, or Slender-billed Oriole.
Our wish list of birds we haven't found yet but are known to occur in Bhutan includes: Gould's and Rusty-bellied Shortwings, Green Cochoa, Rufous-vented Laughingthrush, Brown-headed Fulvetta, Pale-billed (Lesser Rufous-headed) Parrotbill, and Collared Treepie.
This trip requires a sense of adventure. Lodge accommodations (9 nights) are comfortable basic. We'll have 11 nights in 4 tented camps (our hosts will supply 2-man walk-in tents (1 tent/person), camp cots, and bedding--you won't need to bring any camping gear). The tented camps will be near the road, eliminating trekking. Our highest accommodation (one night) will be at 3,300 meters (11,000 ft.) and the highest we'll drive will be about 3,700 meters (12,400 ft.). Snow is possible at high elevations. Temperatures will be cool to warm. Some rain is likely. Roads are almost entirely paved. Birding will be along the road, with some brief forays along trails. Most walking will be downhill. Transportation will be by Toyota 19 passenger Coaster. Food is okay to good throughout, cooked by foreign-trained chefs. While the high altitudes will slow us down, this is not a physically demanding trip. Anyone in good health and fair shape will find it relatively easy. If you like traveling in wild, beautiful, and little known places, where living conditions are spartan, and where you don't know what bird is just around the corner, this is the trip for you.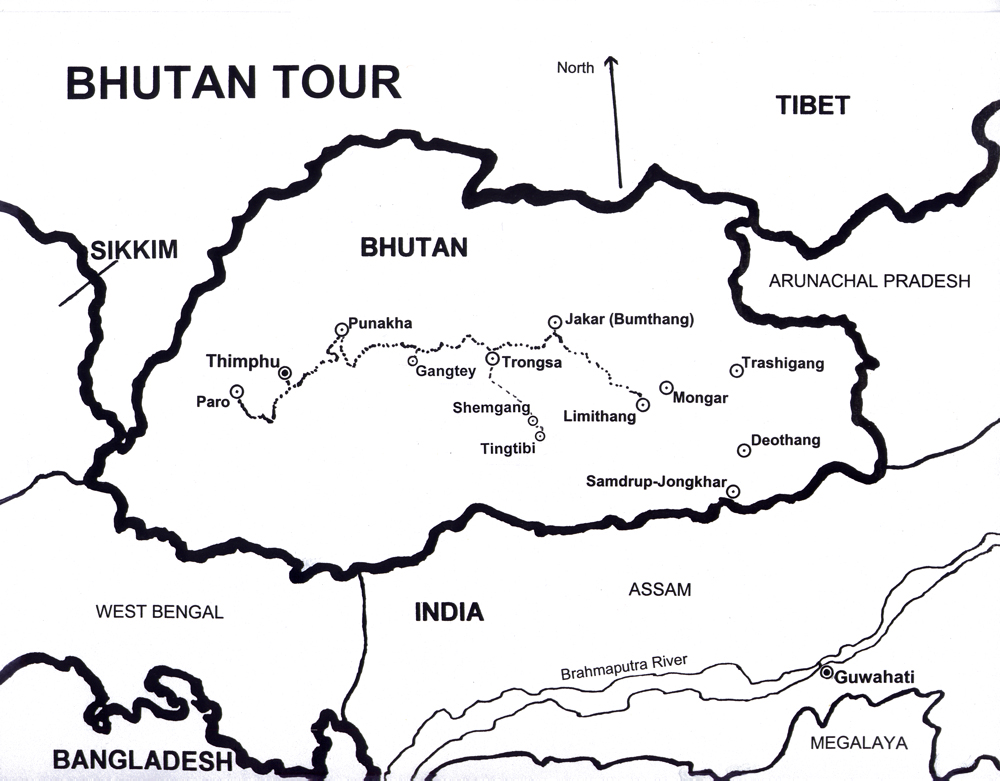 THE LEADER
BEN KING, president of KingBird Tours, has led 48 tours to the Indian Subcontinent (including our 12 tours to Bhutan), and is one of the most experienced bird-tour leaders on the subcontinent, having spent over 4 years birding there. He has written A Field Guide to the Birds of South-East Asia and Checklist of the Birds of Eurasia, and is researching A Field Guide to the Birds of China. He has seen 2,081 species of birds in Asia, including all the species known to occur in Bhutan and all but 17 of the 1,356 species known to occur in the Indian Subcontinent. His knowledge of the birds, their habits and where they are found assures you of the best possible birding experience in Bhutan.
THE BIRDING SITES
We'll arrive in Bhutan at Paro in the west and traverse the country by road to east central Bhutan and then back to Paro. The tour is designed to give us a good altitudinal diversity of forests to explore, 500-3,700 meters (1,650-12,400 ft.). Our birding will be anywhere along the road where the forest looks good and where we find paths into the forest. It will be exciting and great fun to see what we can find.
THE ITINERARY
| | |
| --- | --- |
| Saturday | Arrive Bangkok. Overnight Novotel Suvarnabhumi Airport Hotel. |
| Sunday | Fly Bangkok/Paro via Druk Air KB125(0550/0910). Drive to Thimpu. Overnight Thimpu. |
| 19 days | Drive across length of country from west to east, birding enroute, and returning to Paro. |
| Saturday | Fly Paro/Bangkok via KB124(1000/1520). Overnight Novotel Suvarnabhumi Airport Hotel. |
| Sunday | Depart Bangkok. |
TOUR CONDITIONS
FLIGHT CONSIDERATIONS: We highly recommend flying to Bangkok 1 or 2 days early to rest up and because a flight delay getting into Bangkok could cause you to miss your flight to Bhutan, which could result in your never being able to catch up to the tour. A cautionary note: both the times in 1995 that I traveled New York to Bangkok, airplane mechanical problems delayed my arrival in Bangkok by a whole day. Because I was traveling two days early, it was not a problem.
For participants coming from Europe, Druk Air has 3 flights a week (Monday, Thursday and Saturday) from Delhi to Paro. Paro to Delhi flights are on Wednesday, Friday and Sunday. Flying from Delhi requires staying an extra day in Bhutan prior to the tour, and one extra day following the tour, which we can arrange. The flights between Bangkok and Paro are daily. Those wishing to do some sightseeing in Bhutan before or after the tour are encouraged to do so. We can arrange what you need.
Note that KingBird will purchase your Bangkok (or Delhi) round trip tickets to Paro. These will be issued to KingBird upon issuance of your Bhutan visa in Thimpu. You cannot get these air tickets on your own.
There are no internal flights in Bhutan.
PARTICIPANT LIMIT: 10 persons, plus the leader.
LAND PRICE BASED ON NUMBER OF PARTICIPANTS: Land price is based on the number of participants.
LAND PRICE INCLUDES: Land price includes all ground transportation, double occupancy hotel rooms, all meals, 3 liters (3 quarts)/day of bottled water, guides, tips, fees, Bhutan visa, and foreign airport taxes when accompanied by the leader. NOT INCLUDED are airport taxes when not accompanied by the leader, passports, visas, service charges for obtaining visas (India visa), excess baggage charges, laundry, personal tips, alcoholic beverages, soft drinks, fruit juices (except at breakfast), mineral waters, bottled water beyond the 3 liters/day provided, room service charges, items not on menu of included meals, personal items, souvenirs, sightseeing not included in the itinerary, insurance of any kind, and telephone calls.
LAND AND AIR RATES: All prices are based on current tariff and exchange rates for this tour. Price changes, due either to alteration in tariffs or exchange rates, will be reflected in the prices charged for the tour. KingBird's planning, promotional and operating costs are included in all tour rates.
ACCOMMODATIONS: Based on two persons sharing a twin-bedded room. Single rooms will be available at the supplement charge quoted. We'll supply roommates where possible, but cannot guarantee to find roommates for all desiring them. If no roommate is available, the single supplement will be charged for any person utilizing single accommodation. First class hotel with private bath and air conditioning is provided in Bangkok. Accommodation in Bhutan is basic. Everyone will have their own tent in the camps.
MEALS: All meals are included in the tour price. A la carte meals will be provided in Bangkok only. Box lunches will be utilized on some days.
TOUR ESCORT: The leader of your tour, Ben King, will be with you during the entire tour from the time you reach Bangkok until you depart from Bangkok. There will also be a representative of the local tour company with the group at all times in Bhutan to assist wherever he may.
TAXES AND GRATUITIES: All necessary gratuities to hotel staff, waiters, local guides, drivers, etc. are included in the tour price. Your tour leader is paid a salary and does not expect tips. Thus all necessary tips are included in the tour price and you are not expected to tip anyone. However, if you do wish to tip anyone for special services or because you like them, it is quite all right. All local government taxes are included in the tour price.
LOCAL FEES: All park and entry and local fees are included in the tour price.
BAGGAGE: International flight baggage allowance from USA to Bangkok and return is two pieces with a maximum total dimension (length, width, height of both pieces added up) of 107 inches. Note that most US-based airlines now allow only 23 kg. (50 lbs)/bag—there will be a surcharge for any excess up to 32 kg. (70 lbs.). On many foreign airlines, each bag may weigh up to 32 kilograms (70 pounds). However, on all internal flights in Asia, you are allowed a maximum of 20 kg. (44 lbs.). They are likely to weigh your luggage carefully at least once or twice and perhaps each time. You will be responsible for any excess baggage charges. You are allowed one carry-on bag on all flights. Technically the 20 kg. (44 lb.) pound limit includes your carry-on bag and occasionally a zealous agent will demand that the rule be followed. Air carrier's liability for baggage loss is limited and therefore baggage insurance is recommended and available at nominal rates. Baggage insurance forms will be included along with your interim invoice. It's best to keep your carry-on bag small for the Bangkok/Paro/Bangkok flights. It's a smaller jet and they get fussy sometimes.
SMOKING RULES:
(1) NO smoking in vehicles.
(2) NO smoking at meal tables.
(3) NO smoking in bedrooms if your roommate does not smoke.
(4) The smoker is expected to see that his smoke does not move toward other tour members at all times.
(5) Anyone smoking will be last in line on single-file paths or trails.
---