NORTH BURMA HIMALAYAN EXPEDITION
SE Himalayas in NW Kachin State
30 days

Closed to foreigners since World War II, the extreme northern part of Burma has now opened a crack, making it possible for us to operate there in the shadow of the magnificent snow-capped peaks of the southeastern Himalayas. In an environment that is as close to pristine as is possible in Asia, we'll be birding, camping and trekking. Our two previous trips were among the most exciting birding trips we've ever done. We found 5 new species for Burma, all but one of which was new for SE Asia. Our expedition will follow the same route in hopes of repeating our earlier successes, as well as finding a few species we missed.

The epicenter of montane bird distribution in Asia lies in the southeastern Himalayas, i.e. extreme North Burma, eastern Arunachal Pradesh, southeastern Tibet and extreme northwestern Yunnan. Very rich, with many very special species at this core, the number of bird species gradually diminishes with distance from the center. The reason for such enormous diversity in the southeastern Himalayas appears to be the extreme altitudinal range coupled with one of the highest annual rainfalls on earth. Our expedition will be among the first to actually penetrate this core area and give us an opportunity to observe some birds that few birders have seen.

On each of our previous trips we had several sightings of the rare and little known White-bellied Heron. Both the Blyth's and Temminck's Tragopans, and Sclater's Monal are present at high elevations but difficult to see. Ibisbills were seen several times. Rufous-necked Hornbill and Blyth's Kingfisher are fairly common. The exquisite, rare and local Beautiful Nuthatch is fairly common (20-30/trip). A flock of Snowy-throated Babblers, previously known only from Arunachal Pradesh, was seen each trip. Flocks of Pale-billed and Rufous-headed Parrotbills are common, often including Red-billed and Coral-billed Scimitar-Babblers. We saw several Slender-billed Scimitar-Babblers. Beautiful Sibias were numerous and the Black-headed Shrike-Babbler and Fire-tailed Myzornis were seen several times each trip. Spot-breasted Laughingthrushes are common, but difficult to see, while Chestnut-backed and Rufous-vented Laughingthrushes are less common but likely. We saw several flocks of Brown-headed Fulvettas. A single Wedge-billed Wren-Babbler was seen. The little known Rusty-bellied Shortwing is fairly common, as is the Collared Treepie.

Other interesting birds seen were: Black Stork, Black Eagle, Mountain Hawk-Eagle, Oriental Hobby, Hill, Rufous-throated and White-cheeked Partridges, Common Crane, Speckled Wood-Pigeon, Pin-tailed and Wedge-tailed Pigeons, Collared Owlet, Asian Barred Owlet, Grey Nightjar, Red-headed Trogon, Crested Kingfisher, Wreathed Hornbill, Rufous-bellied and Crimson-breasted Woodpeckers, Darjeeling Woodpecker, Pale-headed and Bay Woodpeckers, Silver-breasted and Long-tailed Broadbills, Burmese Shrike, White-throated and Olive Bulbuls, Brown Dipper, all four bush-robins, Hodgson's Redstart, 5 forktails (including Little and Spotted), Chestnut-bellied Rockthrush, Long-tailed Thrush, Black-breasted and Chestnut Thrushes, Grey-winged Blackbird, Black-throated and Red-throated Thrushes, Dusky and Rufous-tailed Thrushes, Spot-throated and Buff-breasted Babblers, Streaked and Spotted Wren-Babblers, Buff-chested and Spot-necked Babblers, 10-12 species of laughingthrushes (including Rufous-chinned, Rufous-necked and Blue-winged), Red-faced Liociochla, Red-billed Leiothrix, Silver-eared Mesia, Black-eared and Green Shrike-Babblers, Cutia, White-hooded Babbler, Streak-throated and Rusty-fronted Barwings, all 3 minlas, Yellow-throated and Rufous-throated Fulvettas, Streak-throated and Nepal Fulvettas, Rufous-backed and Black-headed Sibias, 7 yuhinas (including White-naped and Black-chinned), Black-throated Parrotbill, all 3 tesias, Grey-sided Bush-Warbler, Hill Prinia, Yellow-vented Warbler, White-spectacled and Grey-cheeked Warblers, Broad-billed and Black-faced Warblers, Rufous-faced Warbler, Slaty-blue Flycatcher, White-gorgetted Flycatcher, Small Niltava, Pygmy Blue Flycatcher, Sultan Tit, White-tailed Nuthatch, Rusty-flanked Treecreeper, Fire-tailed Sunbird, Yellow-throated and Chestnut Buntings, Black-headed Greenfinch, Dark-rumped Rosefinch, Scarlet Finch, Grey-headed Bullfinch, Collared Myna and Spotted Nutcracker.

Besides the birds we saw, there are others that we didn't see but are likely to be there. We heard Black-tailed Crake, Tawny Owl, an unidentified cochoa, and Russet Bush-Warbler, but did not see them. Other possible species include: Ward's Trogon, Gould's Shortwing, several other laughingthrushes, Long-billed Wren-Babbler, and Green and Purple Cochoas.

If we have time we'll visit the Hlawga Park near Yangon. A few Pale-capped Pigeons winter, and we'll hope to be able to see this rare, local and little known species. Other likely birds are: Little Grebe, Little Cormorant, Indian Pond-Heron, Shikra, White-breasted Waterhen, Red-wattled Lapwing, Black-winged Stilt, Stripe-throated and Streak-eared Bulbuls, Puff-throated Babbler, White-crested Laughingthrush, Red-throated Flycatcher, Thick-billed Flowerpecker, Racket-tailed Treepie, etc.

This is not an ordinary tour. It is a rugged expedition involving camping and trekking. We'll have porters to carry all your gear, but you'll have some difficult walking to do on steep and often slippery trails from 440-3,000 m. (1,500-10,000 ft.). There will be about 3.3 km (2 miles) of walking on smooth round rocks in a river bed which can be very slippery and treacherous when wet. There will be rain, possibly heavy at times, and possibly snow. You'll need to bring your own tent, sleeping bag and sleeping pad (air mattress). We'll supply all food and take care of the cooking. Your only chores will be to get your tent set up and organized. Otherwise you'll be birding.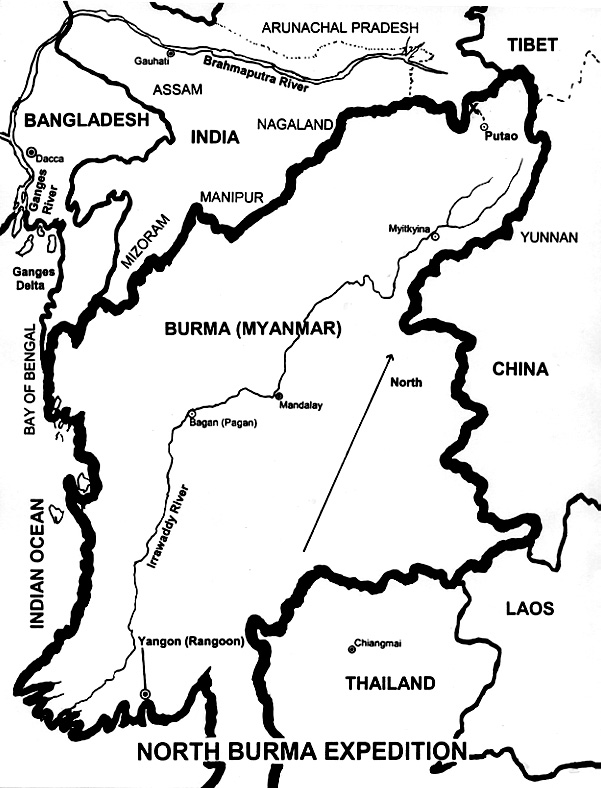 THE LEADER

BEN KING, president of KingBird Tours, has led 144 tours in Asia and is one of the most experienced bird-tour leaders on that continent. He has observed over 2,100 species of birds in Asia. He has written A field Guide to the Birds of South-East Asia and Checklist of the Birds of Eurasia. He has seen more of Burma's bird species than any other ornithologist (all but 1 of the 1,000+ species--over 99% of the fauna). He has spent over 6 months birding in many parts of Burma (including leading 9 tours to various parts of Burma), and is thoroughly familiar with its avifauna. His knowledge of the birds, their habits and where they are found assures you of the best possible birding experience in Burma

THE ITINERARY
| | |
| --- | --- |
| Sunday | Arrive Bangkok. Overnight Suvarnabhumi Airport Hotel. |
| Monday | Fly Bangkok/Yangon (Rangoon). Overnight Yangon. |
| Tuesday | Fly Yangon/Putao. Overnight Putao. |
| 23 days | EXPEDITION |
| Friday | Fly Putao/Yangon. Overnight Yangon. |
| Saturday | Fly Yangon/Bangkok. Overnight Suvarnabhumii Airport Hotel. |
| Sunday | Depart Bangkok. |
TOUR CONDITIONS
AIR CONSIDERATIONS: We'll purchase your Bangkok/Yangon/Bangkok air tickets in order to keep the group together. We recommend arriving in Bangkok a day or two early to ensure timely arrival and allow a little time to overcome jet lag.

LAND PRICE/NUMBER OF PARTICIPANTS: Land price is based on the number of participants. The maximum number of participants will be 8.

LAND PRICE INCLUDES: Land price includes all ground transportation, transfers, double occupancy hotel rooms, all meals, guides, tips, fees, and airport taxes in Burma. NOT INCLUDED are airport taxes outside Burma, passports, visas, excess baggage charges, forwarding of baggage, souvenirs, laundry, personal tips, alcoholic beverages, room service charges, items not on menu of included meals, personal items, fees for vaccinations, sightseeing not included on itinerary, insurance of any kind, telephone calls, cable or telex charges, medical examinations or treatment, and meal or other charges incurred which are not part of the itinerary (caused by any unforeseen delay beyond our control).

LAND RATES: All prices are based on tariffs in effect for this trip. If there are price changes, they will be passed along to tour members. KingBird Tours' planning, promotional and operating costs are included in all tour rates.

TRANSPORTATION: Surface transportation is by minibus and truck.

ACCOMMODATION: Based on two persons sharing a twin-bedded room. Single rooms will not be available everywhere. We'll supply roommates if possible, but if none is available, the single supplement will be charged. Excellent hotel with private bath will be supplied in Bangkok. Accommodation in Rangoon will be basic and pleasant. Accommodation will be primitive to adequate elsewhere, including tents and village huts.

ITINERARY: KingBird Tours reserves the right to make any necessary changes in the itinerary. Note that our Burmese hosts may make alterations in the itinerary that are beyond the control of KingBird Tours.

MEALS: All meals will be provided, i.e., breakfast, table d'hote lunch and dinner.

TOUR ESCORT: Ben King will be with you from the time you arrive in Bangkok until you depart from Bangkok.

MEDICAL AND HEALTH: All applicants should be in good health and in good physical condition. If in doubt about your ability to manage the trip, consult your physician. The trip leader has the right to disqualify anyone at any time during the trip if he believes it is medically necessary. Refunds are not given under such circumstances.

BAGGAGE: International flight baggage allowance from USA to Bangkok is two pieces with a maximum total dimension (length, width, height of both pieces added up) of 106 inches. Each bag may weigh up to 32 kilograms (70 pounds). However, internal flights in Burma allow a maximum of 20 kg. (44 lbs.). They are likely to weigh your luggage carefully but are less zealous with groups and hand baggage. You will be responsible for any excess baggage charges. The rates are inexpensive, so don't worry about it. There is currently no problem with 2 hand-carries in Burma. Air carrier's liability for baggage loss is limited and therefore baggage insurance is recommended and available at nominal rates. N.B. Checked luggage is now X-rayed at most airports in Burma. Keep film either in a lead-lined bag or in your hand-carry bag and take it out to avoid X-rays.

SMOKING RULES:
(1) NO smoking in vehicles.
(2) NO smoking at meal tables.
(3) NO smoking in bedrooms if your roommate does not smoke.
(4) The smoker is expected to see that his smoke does not move toward other tour members at all times.
(5) Anyone smoking will be last in line on single file paths or trails.
---