WEST BURMA (MYANMAR) TOUR
Mt. Victoria, Chin Hills
24 days

The hinterlands of Burma have mostly been inaccessible to foreigners since World War II. All travel in Burma was confined to a regular circuit in the central area. While interesting, this central area did not contain most of Burma's best birding sites. As a result, our knowledge of the birds of Burma is quite poor. However, in the last few years, Burma has begun to open up its more remote areas to tourism. In 1995, we had a superb reconnaissance trip to the areas covered by this tour, which we followed up with a tour in 2000. We'll be following the 2000 tour route with some modifications and adding a couple of sites for what will be a superb birding adventure.

This tour will give us a fine cross section of Central and West Burma birding, from the desert-like area around Pagan, to the deciduous forests and bamboo near Yangon (Rangoon) and the lower hills of West Burma, to the evergreen forests of the higher hills of western Burma. Mt. Victoria, at 3,035 meters (slightly over 10,000 ft.), is the highest mountain in the Chin Hills region of West Burma. A new protected area called Natmatauna National Park has been established there covering the higher elevations of Mt. Victoria. A road reaching 2,700 m. (9,000 ft.) gives us easy access to the best of the birding there.

West Burma will give us some very exciting birding. The White-browed Nuthatch has one of the most limited ranges of any bird, confined to Mt. Victoria and a mountain range a few miles to the north. We should see this pretty little nuthatch as well as the other three Burmese endemic species: Burmese Bushlark, White-throated Babbler and Hooded Treepie. Likely West Burma specialties are: Mountain Bamboo-Partridge, Black-breasted Thrush, Long-tailed and Spotted Wren-Babblers, Striped and Brown capped Laughingthrushes, Streak-throated Barwing, Red-faced Liocichla, Green Shrike-Babbler, Rusty capped Fulvetta, Grey Sibia, Spot-breasted Parrotbill, and Yellow-streaked, Broad-billed and Black-faced Warblers. We should see: River and Black-bellied Terns, Ashy Wood-Pigeon, Grey-headed and Blossom headed Parakeets, Indian Nightjar, Rufous-bellied and Streak-throated Woodpeckers, Long-billed Pipit, Burmese Shrike, Blue-fronted Redstart, Chestnut-bellied Rockthrush, Long-tailed and Scaly Thrushes, Spot-breasted, Streak-breasted and Slender-billed Scimitar-Babblers, Chinese Babax, Chestnut-tailed and Red-tailed Minlas, White-browed and Nepal Fulvettas, Chestnut-headed Tesia, Brown and Russet Bush-Warblers, Slaty-blue Flycatcher, Pygmy Blue Flycatcher, Black-browed Tit, Bar-tailed Treecreeper, Fire-tailed Sunbird, Vinous-breasted Starling, and Gold-billed Magpie.

More difficult, but possible, birds are: Black Baza, Besra, White-rumped Falcon, Chinese Francolin, Rain Quail, Hill and Rufous-throated Partridges, Kalij Pheasant, Great Thick-knee, Indian Skimmer, Pale-capped Pigeon, Crimson-breasted and Darjeeling Woodpeckers, Bay Woodpecker, Long tailed Broadbill, White-bellied Minivet, White-tailed Robin, Grey-sided Thrush, Spot-throated Babbler, Blue-winged Laughingthrush, Cutia, Black-headed Shrike-Babbler, Black-bibbed Tit, and Slender-billed Oriole. If we are very lucky, we might see a Hume's Pheasant or Blyth's Tragopan.

Anyone in good health and modest physical shape will be comfortable on this trip. There will be long days and long (but slow) walks. Away from Rangoon and Pagan, the accommodation will be basic. You'll need to bring your sleeping bag and air mattress for several of these places. Tourism is only beginning in these areas and little infrastructure exists. Food will be basic to good. There will be some long drives on dusty roads. You'll find the Burmese friendly and pleasant. Join us for a grand trip far from the beaten path.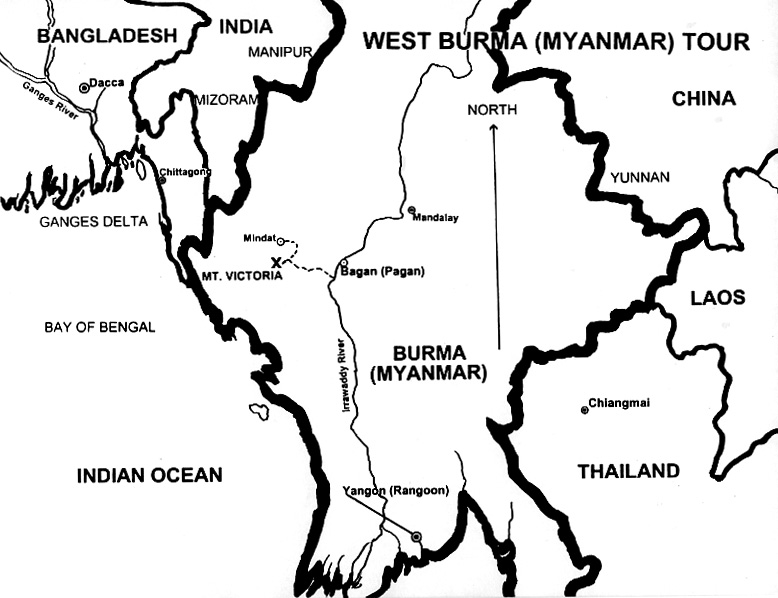 THE LEADER

BEN KING, president of KingBird Tours, has led 144 tours in Asia and is one of the most experienced bird-tour leaders on that continent. He has observed over 2,100 species of birds in Asia. He has written A Field Guide to the Birds of South-East Asia and Checklist of the Birds of Eurasia. He has seen more of Burma's bird species than any other ornithologist (all but 1 of the 1,000+ species--over 99% of the fauna). He has spent over 3 months birding in many parts of Burma (including leading 9 tours to various parts of Burma), and is thoroughly familiar with its avifauna. His knowledge of the birds, their habits and where they are found assures you of the best possible birding experience in Burma.

THE BIRDING SITES

The MOYINGYI WETLAND WILDLIFE SANCTUARY (1 day) is near Rangoon and offers a good variety of waterbirds, including: Little Cormorant, Grey and Purple Herons, Indian Pond-Heron, Asian Openbill, Black-headed Ibis, Garganey, Lesser Whistlingduck, Pied Harrier, Western and Eastern Marsh-Harriers, Purple Swamphen, Pheasant-tailed and Bronze-winged Jacanas, Oriental Pratincole, Whiskered Tern, Striated Grassbird, Oriental Reed-Warbler, Zitting Cisticola, etc. We might see an Oriental Darter, Spot-billed Pelican, Cinnamon Bittern, Painted Stork, Wooly-necked Stork, Lesser Adjutant, Pallas's Fish-Eagle, Greater Spotted Eagle, Sarus Crane, Watercock, Black-winged Stilt or Asian Golden Weaver.

BAGAN (Pagan) (3 days), is fascinating with its many ruins of an older civilization. We'll get a look at some of these as we wander about the area. Birdwise it is quite interesting and we'll have a couple of days to explore. We'll take a boat on the Irrawaddy River one day to look for Ruddy Shelduck, Spot-billed Duck, River Lapwing, Spotted Redshank, Common Greenshank, Temminck's Stint, Great Thick-knee (maybe), Oriental and Small Pratincoles, Brown-headed Gull, Black-bellied and Little Terns, Indian Skimmer (maybe), Pied Kingfisher, Indian Sandlark, Plain Martin and Red-throated Pipit. Away from the river, the area is near-desert with scattered low acacias and scrub and a few other trees where we'll look for: White-eyed Buzzard, Rain Quail, Barred Buttonquail, Yellow-footed Pigeon, Spotted Owlet, Indian Nightjar, Indian Roller, Eurasian Hoopoe, Eurasian Wryneck, Burmese Bushlark (recently split from Rufous-winged Bushlark), Oriental Pipit, White-bellied Minivet (maybe), Siberian Rubythroat, Bluethroat, Yellow-eyed and White-throated Babblers, Thick-billed Warbler, Grey-breasted Prinia, Tickell's Leaf- and Yellow-streaked Warblers, Red-throated Flycatcher, Baya Weaver, Vinous-breasted Starling and Jungle Myna.

KAZUNMA (3 days) is in the foothills leading away from the Irrawaddy River valley into the mountains of the Chin State. The dry deciduous forest of this area is quite rich in birds: Black Baza, Oriental Honey-Kite, White-rumped Falcon, 5 parakeets (Alexandrine, Rose-ringed, Gray-headed, Blossom-headed and Red-breasted), Banded Bay Cuckoo, Hoopoe, Lineated Barbet, Fulvous-breasted Woodpecker, Streak-throated and Grey-headed Woodpeckers, Greater Flameback, Wire-tailed Swallow, Long-billed Pipit, Large Cuckooshrike, Small Minivet, White-bellied Minivet (maybe), Common Woodshrike, Burmese Shrike, Lesser and Greater Necklaced Laughingthrushes, Striated Prinia, White browed Fantail, Chestnut-bellied Nuthatch, Pale-billed Flowerpecker, Purple Sunbird, Plain-backed Sparrow, Slender-billed Oriole, and Rufous and Hooded Treepies.

MT. VICTORIA (10 days) is high in the mountains of the southern Chin Hills of West Burma. We'll cover the higher elevations of these mountains from about 900-3,000m. (3,000-10,000 ft.). The lowest elevations are dryer forest, while evergreen forest takes over at 1,200-1,500m. (4,000-5,000 ft.). There is some spectacularly beautiful primary forest on the upper elevations of Mt .Victoria, ranging from tall trees to stunted tree growth on the ridges. The secondgrowth scrub and forest edge can be quite productive and we'll check those areas out as well. We'll experience rich birding here with: Black Eagle, Chinese Francolin (maybe), Mountain Bamboo-Partridge, Ashy Wood-Pigeon (maybe), Mountain Imperial Pigeon, Large Hawk-Cuckoo, Green-billed Malkoha, Collared Owlet, Asian Barred Owlet, Grey Nightjar, Great and Golden-throated Barbets, Stripe-breasted, Rufous-bellied, Crimson-breasted, Darjeeling and Bay Woodpeckers, Long-tailed Broadbill, Grey-chinned and Long-tailed Minivets, Crested Finchbill, Striated Bulbul, Orange-bellied Leafbird, Indian Blue-Robin (maybe), Orange-flanked Bush-Robin, Blue fronted and Daurian Redstarts, Chestnut-bellied Rockthrush, Long-tailed and Scaly Thrushes, Black breasted and Grey-sided Thrushes, Spot-breasted, Streak-breasted, and Slender-billed Scimitar Babblers, Scaly-breasted, Pygmy, Spotted and Long-tailed Wren-Babblers, Chinese Babax, Striped, Brown-capped and Blue-winged Laughingthrushes, Red-faced Liocichla, Silver-eared Mesia, Green and Black-eared Shrike-Babblers, Rusty-fronted and Streak-throated Barwings, all 3 minlas, White-browed, Rusty-capped, and Nepal Fulvettas, Grey Sibia, Whiskered and Stripe-throated Yuhinas, Spot-breasted Parrotbill, Chestnut-headed Tesia, Brownish-flanked and Aberrant Bush-Warblers, Brown and Russet Bush-Warblers, Striated and Hill Prinias, Mountain Tailorbird, Buff-barred and Ashy-throated Warblers, Broad-billed and Black-faced Warblers, Dark-sided Flycatcher, Slaty-backed, Rufous-gorgetted and Slaty blue Flycatchers, Large and Rufous-bellied Niltavas, Pygmy Blue Flycatcher, Yellow-bellied Fantail, Black throated and Black-browed Tits, Black-bibbed, Green-backed, Yellow-cheeked and Yellow-browed Tits, Chestnut-vented and White-browed Nuthatches, Bar-tailed and Brown-throated Treecreepers, Gould's, Green-tailed and Fire-tailed Sunbirds, Little and Chestnut Buntings, Brown Bullfinch, Russet Sparrow, Maroon Oriole, and Gold-billed, Blue and Green Magpies.

With luck, we might see a Hill or Rufous-throated Partridge, Kalij Pheasant, Tawny Owl, White tailed Robin, Cutia, Black-headed Shrike-Babbler, or Scarlet Finch. There are a few Blyth's Tragopans, Hume's Pheasants and Grey Peacock-Pheasants here, but we'll need an enormous stroke of good fortune to see one.

HLAWGA PARK (1 day) is a small protected forest area situated on the northern edge of Rangoon. A few Pale-capped Pigeons winter here and we might see one if we're lucky. Other birds are: Little Grebe, Cotton Pygmy-Goose, Shikra, Common Moorhen, Red-wattled Lapwing, Pintail Snipe (maybe), Plaintive Cuckoo, Asian Koel, Asian Palm-Swift, Black-crested, Stripe-throated and Streak-eared Bulbuls, Common Iora, White-rumped Shama, Puff-throated Babbler, White-crested Laughingthrush, Grey-breasted Prinia, Black-naped Monarch, Scarlet-backed Flowerpecker, Purple-backed Starling (maybe), Black-naped Oriole, Crow-billed Drongo (maybe), Greater Racket-tailed Drongo, and Racket tailed Treepie.
THE ITINERARY
| | |
| --- | --- |
| Saturday | Arrive Bangkok. Overnight Suvarnabhumi Airport Hotel. |
| Sunday | Fly Bangkok/Yangon (Rangoon). Afternoon visit Shwedagon Pagoda. Overnight Yangon. |
| 19 days | On tour. |
| Saturday | Morning birding Hlawga Park. Evening fly Yangoon/Bangkok.. Overnight Suvarnabhumi Airport Hotel. |
| Sunday | Depart Bangkok. |
---
TOUR CONDITIONS
AIR CONSIDERATIONS: We'll purchase your Bangkok/Yangon/Bangkok and internal Burma air tickets to ensure keeping the group together. Please plan to arrive in Bangkok a day or two early to assure timely arrival and have a little time to get over jet lag.
LAND PRICE/NUMBER OF PARTICIPANTS: Land price is based on the number of participants. The maximum number of participants will be 10.
LAND PRICE INCLUDES: Land price includes all ground transportation, transfers, double occupancy hotel rooms, all meals, guides, tips, fees, and airport taxes in Burma. NOT INCLUDED are airport taxes outside Burma, passports, visas, excess baggage charges, forwarding of baggage, souvenirs, laundry, personal tips, alcoholic beverages, room service charges, items not on menu of included meals, personal items, fees for vaccinations, sightseeing not included on itinerary, insurance of any kind, telephone calls, cable or telex charges, medical examinations or treatment, and meal or other charges incurred which are not part of the itinerary (caused by any unforeseen delay beyond our control).
LAND RATES: All prices are based on tariffs in effect for this trip. If there are price changes, they will be passed along to tour members.
KingBird Tours' planning, promotional and operating costs are included in all tour rates.
TRANSPORTATION: Surface transportation will be via minibus and 4-wheel drive vehicle.
ACCOMMODATION: Based on two persons sharing a twin-bedded room. Single rooms will not be available everywhere. We'll supply roommates if possible, but if none is available, the single supplement will be charged. Excellent hotel with private bath will be supplied in Bangkok. Accommodation in Yangon and Bagan will be basic and pleasant. Accommodation will be rustic to basic elsewhere.
ITINERARY: KingBird Tours reserves the right to make any necessary changes in the itinerary. Note that our Burmese hosts may make alterations in the itinerary that are beyond the control of KingBird Tours.
MEALS: All meals will be provided, i.e., breakfast, table d'hote lunch and dinner.

TOUR ESCORT: Ben King will be with you from the time you arrive in Yangon until you depart from Bangkok.
BAGGAGE: International flight baggage allowance from USA to Bangkok is two pieces with a maximum total dimension (length, width, height of both pieces added up) of 106 inches. Each bag may weigh up to 32 kilograms (70 pounds). However, internal flights in Burma allow a maximum of 20 kg. (44 lbs.). They are likely to weigh your luggage carefully but are less zealous with groups and hand baggage. You will be responsible for any excess baggage charges. The rates are inexpensive, so don't worry about it. There is currently no problem with 2 hand-carries in Burma. Air carrier's liability for baggage loss is limited and therefore baggage insurance is recommended and available at nominal rates. N.B. Checked luggage is now X-rayed at most airports in Burma. Keep film either in a lead-lined bag or in your hand-carry bag and take it out to avoid X-rays.
SMOKING RULES:
(1) NO smoking in vehicles.
(2) NO smoking at meal tables.
(3) NO smoking in bedrooms if your roommate does not smoke.
(4) The smoker is expected to see that his smoke does not move toward other tour members at all times.
(5) Anyone smoking will be last in line on single file paths or trails.
---