INDONESIA TOUR
SOUTH MALUKU (MOLUCCA) ISLANDS
AMBON, TANIMBAR, KAI, BURU, SERAM
28 days
Long known as the Spice Islands, the Maluku (Molucca) Islands were pivotal research areas in Alfred Russell Wallace's natural history studies which culminated in Darwin's theory of evolution. The part of Indonesia often called Wallacea (Sulawesi, and the Lesser Sunda and Maluku Islands) contains about 700 species of birds, of which at least 39% (275+) are endemic. This level of endemism is extremely high and matched in only a few areas in the world. Wallacea's numerous islands, having been separated from each other for many years, are fertile breeding grounds for evolutionary change. The Maluku Islands have about 100 currently recognized endemic bird species, of which we are likely to see over 50. Our total list for the trip will be about 180 species. Those who have birded extensively in surrounding areas such as Sulawesi, Halmahera, the Lesser Sundas, Irian Jaya (West New Guinea) and Australia should add 50± species to their lifelists. Those who have not birded all those areas will add more.
There are some quite exotic and beautiful birds to be seen on this trip including: Spotted Whistlingduck, Radjah Shelduck, Pacific Baza, Gurney's Eagle, 2-4 species of scrubfowl, Pale-vented Bush-hen, 17-20 pigeons (including 5 beautiful fruit-doves, 5 fine imperial-pigeons and the little known Long-tailed Mountain Pigeon), 12 parrots (including 3 lories, 2 cockatoos, a racquet-tail and the Moluccan King-Parrot), Black-eared Cuckoo, Channel-billed Cuckoo, Kai Coucal, 2 or 3 owls, 6 kingfishers (including Common Paradise-, Lazuli, and Variable), Papuan (Blyth's) Hornbill, 5 or 6 cuckooshrikes, 2 trillers, Slaty-backed Thrush, Tanimbar Bush-Warbler (first described only a few years ago), Streak-breasted and Rufous-chested Flycatchers, Rufous-sided Gerygone, 8-10 monarchs, 5 or 6 fantails, 5 whistlers, 3 flowerpeckers, 9 white-eyes, 5 honeyeaters, 2 friarbirds, a parrotfinch, 4 munias, 3 starlings, Long-crested Myna, and 3 orioles. Bulwer's Petrel, Matsudaira's Storm-Petrel, Abbott's Booby and Lesser Masked Owl are possible.
This tour is not particularly demanding physically. Anyone in good health and modest physical condition will be just fine. Mostly we'll be in lowlands and many days will be quite hot and humid. We'll frequently take a midday rest to evade the heat and low bird activity levels prevalent then. The bulk of our birding will be along roads, with occasional forays into the forest on trails. Accommodations are basic; some new and pleasant, a few air conditioned, several are quite rustic. Food is okay to good. A real sense of adventure and patience are essential, as the necessary flights from island to island are regularly delayed from one to several days. Several extra days are factored into the tour to ensure that we get to all the islands. We'll use inter-island ferry boats on several occasions.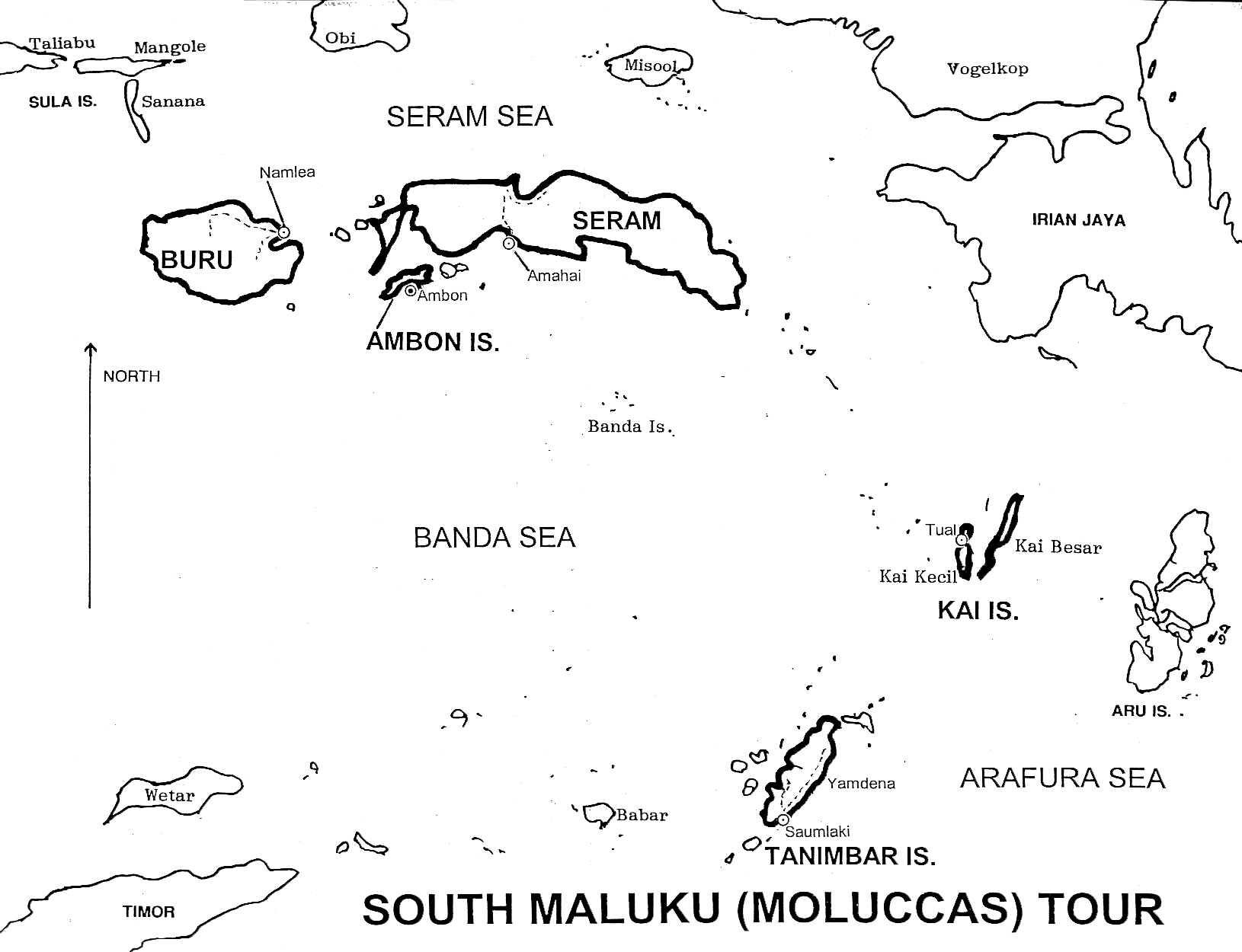 THE LEADER
BEN KING, president of KingBird Tours, is one of the most experienced bird tour leaders in the world, having led 144 tours to various parts of Asia. He has written A Field Guide to the Birds of Southeast Asia, and Checklist of the Birds of Eurasia. He has seen over 2,100 species of birds in Asia, believed to be a record. He has spent 3 years birding in all the major regions of Indonesia, including leading our 28 previous tours to various islands. He has also made numerous extended birding trips to the surrounding areas in the Philippines, New Guinea and Australia, giving him unmatched field experience. His knowledge of the birds, their habits and how to find them assures you of the best possible birding experience in Indonesia.
THE BIRDING SITES
AMBON
AMBON (half day) has been a trading center for the spice trade for hundreds of years. It will be the base for our forays to the other islands. Deforestation, hunting and trapping have drastically reduced its bird populations. Our birding here will fill in the gaps between the other islands as we await transportation. We can expect only a few species: Great and Lesser Frigatebirds, White-bellied Sea-Eagle, Spotted Kestrel, White-headed Stilt, Slender-billed Cuckoo-Dove, Claret-breasted Fruit-Dove, Moluccan Imperial-Pigeon, Red-cheeked Parrot, Rusty-breasted Cuckoo, Lesser Coucal, Glossy Swiftlet, Common Paradise-Kingfisher, Sacred Kingfisher, Rainbow Bee-eater, Pacific Swallow, Bright-capped Cisticola, Willie Wagtail, Northern Fantail, Ashy Flowerpecker, Black Sunbird, Ambon White-eye, Black-faced and Chestnut Munias, Moluccan and Metallic Starlings, and Spangled Drongo.
TANIMBAR
Yamdena Island (6 days) is the largest island in this group. It contains no high elevations and has a fair bit of forest left. It is the richest and birdiest of the islands we visit. The roads are mostly paved but quite poor. We can expect: Pacific Reef-Egret, Sunda Goshawk, Tanimbar Scrubfowl, Australian Pratincole, Bar-necked Cuckoo-Dove, Barred Dove, Wallace's and Rose-crowned Fruit-Doves, Blue-tailed and Pink-headed Imperial Pigeons, Blue-streaked Lory, Tanimbar Cockatoo, Eclectus Parrot, Moluccan Boobook, Wallacean Cuckooshrike, White-browed Triller, Slaty-backed Thrush, Tanimbar Bush-Warbler, Tawny Grassbird, Rufous-chested Flycatcher, Rufous-sided Gerygone, Loetoe and Black-bibbed Monarchs, Broad-billed and Shining Flycatchers, Cinnamon-tailed, Long-tailed and Rufous Fantails, Golden-bellied Flyrobin, Golden and Wallacean Whistlers, Mistletoebird, Ashy-bellied White-eye, Scaly-breasted Honeyeater, Black-breasted Myzomela, Black-faced Friarbird, Tricolored Parrotfinch, Scaly-breasted and Five-colored Munias, Tanimbar Starling, Dark-eared Oriole, Wallacean Drongo, White-breasted Woodswallow, and Tanimbar Crow. With luck, we might see Bonelli's Eagle, Australian Hobby, Tanimbar (Lesser Masked) Owl, Fawn-breasted Thrush, or Violet-hooded Starling.
KAI ISLANDS
We'll concentrate our efforts on KAI KECIL (5 days), with a brief half-day foray over to Kai Besar. Kai Kecil is a low island with only small accessible patches of forest left. Kai Besar is higher and larger with a well-forested, but inaccessible national park at its north end. Fortunately, most of the Kai Island birds can be seen on Kai Kecil. The birding is fairly good and we should see: Little Black and Little Pied Cormorants, Orange-footed Scrubfowl, White-breasted Fruit-Dove, Pied Imperial Pigeon, Red-flanked Lorikeet, Brush Cuckoo, Australian Koel, Channel-billed Cuckoo, Kai Coucal, Large-tailed Nightjar, Black-faced and Kai Cuckoo-shrikes, Varied Triller, Island, Grey-headed, Wallacean, and Drab Whistlers, Lemon-bellied, Great Kai, and Little Kai White-eyes, and Green Figbird. With luck, we might find the Australian Darter, Spotted and Lesser Whistlingducks, Green Pygmy Goose, Red-necked Crake, Metallic Pigeon, Stephan's Dove, Yellow-capped Pygmy Parrot, Black-eared Cuckoo, Pied Bronze-Cuckoo, or Cinnamon-chested Flycatcher.
BURU
BURU (5 days) is a fairly large island whose highest elevation is over 2,700 m. (9,000 ft.). Some patches of forest are accessible via logging roads. We hope to reach 1,290m. (4,300 ft.) via a logging road (higher elevations are inaccessible to a tour). Birdlife is sparse on this island but we'll see a few good ones: Black and Gurney's Eagles, Pompadour Pigeon, Spectacled Imperial Pigeon, Long-tailed Mountain-Pigeon, Buru Racquet-tail, Moluccan King-Parrot, Rusty-breasted Cuckoo, Moluccan Swiftlet, Pale-grey Cuckooshrike, Golden Bulbul, Mountain Tailorbird, Island Leaf-Warbler, Streak-breasted Flycatcher, White-naped Monarch, Flame-breasted Flowerpecker, Buru White-eye, Crimson Myzomela, and Dark-eared Oriole. With luck we might see Meyer's Goshawk, Oriental Hobby, Black-tipped Monarch, or Rufous-rumped Fantail. The ferry rides between Buru and Ambon could produce Bulwer's Petrel, Streaked Shearwater, Matsudaira's Storm-Petrel, Red-footed, Brown and Abbott's Boobys, and Bridled Tern.
SERAM
SERAM (7 days) is the largest of the southern Maluku Islands with a maximum elevation just over 3,000 meters (10,000 ft.). The highest elevation attainable by road is 1,275m. (4,025 ft.). Higher elevations can be reached only by long arduous trekking and camping, impossible on a tour. Birds are rather sparse in our montane locality and common at our lowland birding area. Some birds we are likely to see are: Australian Ibis, Radjah Shelduck, Pacific Baza, Buff-banded Rail, Purple Swamphen, Superb and Claret-breasted Fruit-Doves, Moluccan Imperial Pigeon, Long-tailed Mountain-Pigeon, Red Lory, Rainbow Lorikeet, Red-flanked Lorikeet, Salmon-crested Cockatoo, Great-billed Parrot, Moluccan King-Parrot, Asian Koel, Moluccan Scops-Owl, Moustached Treeswift, Lazuli and Variable Kingfishers, Papuan Hornbill, Moluccan Cuckooshrike, Island Flycatcher, Spectacled Monarch, Dark-grey Flycatcher, Streak-breasted Fantail, Black-crowned White-eye, Grey-hooded Ibon, Seram Honeyeater, Drab Myzomela, Seram Friarbird, Long-crested Myna, Grey-necked Oriole, and Seram Crow. With luck, we might see Little Eagle, Forsten's or Moluccan Scrubfowl, Pale-vented Bush-hen, or Blue-eared Lory.
THE ITINERARY
| | |
| --- | --- |
| Tuesday | Arrive Jakarta. Overnight Harris Hotel. |
| Wednesday | Fly Jakarta / Ambon. Overnight Ambon. |
| 23 days | On tour. |
| Saturday | Fly Ambon/Jakarta. Overnight Harris Hotel. |
| Sunday | Depart Jakarta. |
TOUR CONDITIONS
AIR CONSIDERATIONS: The tour begins and ends in Jakarta. We will purchase your internal Indonesia air tickets in order to keep the group together. Please plan to arrive in Jakarta a day or two early to ensure timely arrival and allow some time to get over jet lag.
PARTICIPANT LIMIT: 10 persons, plus the leader.
LAND PRICE BASIS: Land price is based on the number of participants.
LAND PRICE INCLUDES: Land price includes all ground transportation, double occupancy hotel rooms, all meals, bottled water, guides, tips, fees, and airport taxes when accompanied by the leader. NOT INCLUDED are airport taxes when not accompanied by the leader, passports, visas, service charges for obtaining visas, excess baggage charges, medical examinations or treatment, meal or other charges incurred which are not part of the itinerary (caused by unforeseen delay beyond our control), laundry, personal tips, alcoholic beverages, soft drinks, fruit juices (except at breakfast), mineral waters, room service charges, items not on menu of included meals, personal items, souvenirs, sightseeing not included in the itinerary, insurance of any kind, and telephone calls.
LAND AND AIR RATES: All prices are based on tariff and exchange rates in effect for this tour. Price changes, due either to alterations in tariffs or exchange rates, will be reflected in the prices charged for the tour. KingBird Tours' planning, promotional and operating costs are included in all tour rates.
ACCOMMODATIONS: Based on two persons sharing a twin-bedded room. Single rooms will be available at the supplement charge quoted. In some of the more remote areas, however, single rooms are unavailable. We'll supply roommates where possible, but cannot guarantee to find roommates for all desiring them. If no roommate is available, the single supplement will be charged for any person utilizing single accommodation. Best available hotels with private bath and air-conditioning are provided where available. However, some accommodation will be quite rustic.
MEALS: All meals are included in the tour price. This will be breakfast, table d'hote lunch and dinner. A la carte meals will be provided at some hotels. Box lunches will be utilized on some days. For those joining only a segment of the tour, meals are normally not included when you are not with the main tour group (prior to joining or after leaving).
TOUR ESCORT: The leader of your tour, Ben King, the president of KingBird Tours, will be with you during the entire tour from the time you reach Jakarta until you depart from Jakarta.
TAXES AND GRATUITIES: All gratuities to hotel staff, waiters, local guides, drivers, etc., are included in the tour price. Your tour leader is paid a salary and does not expect tips. Thus it is not necessary to tip anyone. However, if you wish to tip anyone for special services or because you like them, it is quite all right. All local government taxes are included in the tour price.
AIRPORT TAXES: These will be paid by your tour leader when he is accompanying you. When he is not with you, these taxes are your own responsibility.
BAGGAGE: International flight baggage allowance from USA to Jakarta and return is two pieces with a total dimension (length, width, height of both pieces added up) of 107 inches. Note that most USA-based airlines now allow only 23 kg. (50 lbs.)/bag. On many foreign airlines, each bag may weigh up to 32 kg. (70 lbs.). However, on internal flights in Indonesia you are allowed a maximum of 20 kg. (44 lbs.), or (on two flights) 10 kg. (22 lbs.). They are likely to weigh your luggage carefully at least once or twice and perhaps each time. You will be responsible for any excess baggage charges. Charges are not high however, so bring what you need. You are allowed one carry-on bag on all flights. Air carrier's liability for baggage loss is limited and therefore baggage insurance is recommended and available at nominal rates. Baggage insurance forms will be included along with your interim invoice.
SMOKING RULES: (1) NO smoking in vehicles. (2) NO smoking at meal tables. (3) NO smoking in bedrooms if your roommate does not smoke. (4) The smoker is expected to see that his smoke does not move toward other tour members, at all times. (5) Anyone smoking will be last in line on single-file paths or trails
---