PHILIPPINE ISLANDS TOUR
32 days
Our Philippines Tour is the most comprehensive available. While the total list for the Philippines is not large (about 600 species), it has a good number of fascinating endemics (about 190 species). On this tour we expect over 300 species, including more than 120 endemics. On our 2008 tour we saw 330 species, including 139 endemics.
The Philippine endemics include: Philippine Duck, Philippine Serpent-Eagle, Philippine (Monkey-eating) Eagle, Philippine Falconet, Palawan Peacock-Pheasant, Philippine Woodcock, bleedingheart pigeons, 2 beautiful fruit-doves, Philippine Cockatoo, racquet-tail parrots, 2 superb malkohas, several owls, Philippine Trogon, 9 species of hornbills, 2 broadbills, 2 pittas, 4 cuckooshrikes, lots of bulbuls, babblers, warblers and flycatchers, Blue Paradise-Flycatcher, 3 rhabdornis, 13 flowerpeckers, 7 sunbirds, a spiderhunter, 4 white-eyes, 2 parrotfinches and 2 exotic mynas. Aside from the endemics, we'll also see a good number of the more widespread Pacific and Asian species. The length of the trip will allow us time to cover fairly thoroughly the areas we visit, giving us a good crack at the special birds of the Philippines, as well as setting a pace that isn't frantic.
We have seen the Philippine (Monkey-eating) Eagle on all but one of our previous tours, usually quite well. However, we have no idea how much longer we'll be able to find this magnificent bird. The rapid and nearly complete forest destruction continues, as well as intense hunting and trapping pressure. Current guesstimates give a population of 200-600 birds in the wild. Some feel that within a few years there will not be a patch of forest large enough to maintain a pair of Philippine Eagles in the whole of the Philippines. The extinction of this great eagle in the near future is all but certain. Extinctions of other endemic species will accompany the eagle, some in as few as 10 years. Most endemic species are dependent on primary forest and their populations are in serious decline. We're still managing good lists of both endemic species and the more widespread ones, but cannot maintain these numbers for long. It's best to place the Philippines on your do it now or never list.
You'll find the hospitality and friendliness of the Filipinos quite refreshing. The food is good to tasty and our accommodations mostly pleasant to good, with a few rather rustic places thrown in, including a tented camp (we supply the tents and sleeping bags). Unfortunately so much of the forest of the Philippines has been (and is being) destroyed that some long drives will be necessary to get to many of the birding areas. This is tiring and we'll have a midday rest when possible. The length of the tour is also tiring. There are some long walks on muddy trails. Good health and fair physical shape are necessary as the tour is physically demanding. Those whose physical condition is poorer will manage with more determination.
Because the weather is unpredictable, the logistics are complex, and the Philippine airlines frequently change schedules, there are likely to be a few bumps here and there. All this demands some flexibility and a sense of adventure. Keep in mind that the rate of forest destruction in the Philippines ensures the imminent extinction of some species. It's best to try for them while they're still alive.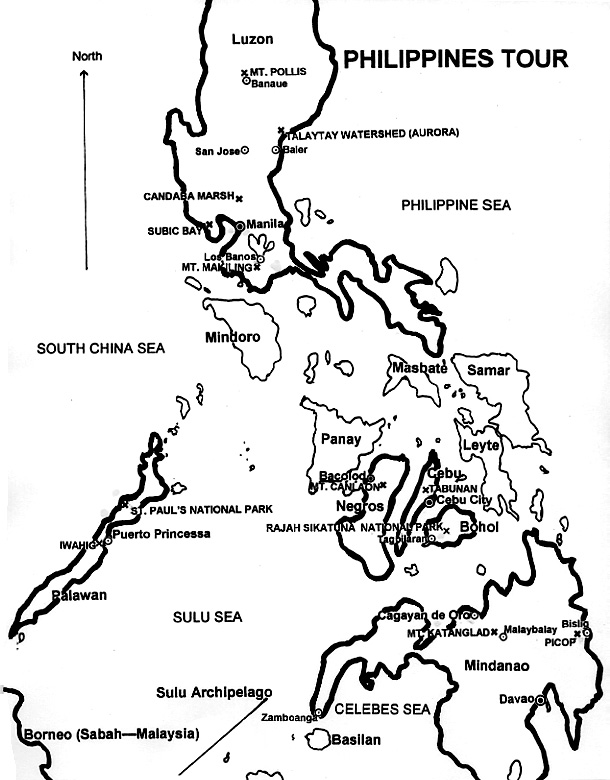 THE LEADER
BEN KING wrote A Field Guide to the Birds of South-East Asia and Checklist of the Birds of Eurasia. He is the most experienced birder in Asia, having seen over 2,100 species and led 144 birding tours there. His over 21 years of birding in Asia during a period of 45 years of intense study of its avifauna includes over 2 years of extensive fieldwork in the Philippines, including leading our 19 previous tours there. He has seen more (all but 6) of the species of birds that inhabit the Philippines than any other birder. Ben's knowledge of the birds, their habits and where they are found assures you of the best possible birding experience in the Philippines.
THE ITINERARY
| | |
| --- | --- |
| Saturday | Arrive Manila. Overnight Heritage Hotel. |
| 29 days | On tour |
| Monday | Depart Manila. |
THE BIRDING SITES
MINDORO (3 days) gives us the opportunity to see 4 of its endemics: Black-hooded Coucal, Mindoro Boobook, Mindoro Hornbill, and Scarlet-collared Flowerpecker. The Mindoro Bleedingheart is a remote possibility. Accommodation basic hotel.
Our birding on LUZON (7 days) will encompass tropical rain forest, mountain forest up to 1,800 m. (6,000 ft.), marshes and cultivation. We'll visit the spectacular rice terraces near Banaue. There are no longer large numbers of birds, but our list will contain many fine species, such as: Philippine Duck, Philippine Serpent-Eagle, Rufous-bellied Eagle, Philippine Hawk-Eagle, Philippine Falconet, Red Junglefowl, Barred Rail, White-browed Crake, Greater Paintedsnipe, Pintail and Swinhoe's Snipe, Oriental Pratincole, Guaiabero, Green Racquet-tail, Philippine Hanging-Parrot, Red-crested and Scale-feathered Malkohas, Rufous Coucal, Philippine Scops-Owl, Pygmy, Grey-rumped and Uniform Swiftlets, Purple Needletail, Spotted and Indigo-banded Kingfishers, Tarictic Hornbill, Philippine, White-bellied, and Sooty Woodpeckers, Bar-bellied and Blackish Cuckooshrikes, Black-and-white Triller, Philippine Bulbul, Grey-capped Shrike, White-browed Shama, Luzon Redstart, Island Thrush, Chestnut-faced Babbler, Philippine Bush-Warbler, Tawny and Striated Grassbirds, Philippine and Grey-backed Tailorbirds, Citrine Flycatcher, Blue-headed Fantail, Olive-backed and Yellow-bellied Whistlers, Elegant Tit, Sulphur-billed Nuthatch, Stripe-sided Rhabdornis, Red-striped Flowerpecker, Metallic-winged, and Lovely Sunbirds, Lowland White-eye, Coleto, White-lored Oriole, and Balicassiao.
It's also possible (with luck) to see Pied Harrier, Spotted Buttonquail, Luzon Bleedingheart, Amethyst Dove, Flame-breasted Fruit-Dove, Montane Racquet-tail, Philippine Eagle-Owl, Whiskered Pitta, Pechora Pipit, Brown-headed Thrush, Benquet Bush-Warbler, Lanceolated and Middendorf's Warblers, Rusty-flanked Flycatcher, White-fronted Tit, Long-billed Rhabdornis, and Chestnut-cheeked Starling. We'll visit Mt. Pollis, Mt. McKiling, Subic Bay, and Candaba Marsh for a great variety of birding experiences. Our accommodations are comfortable.
PALAWAN (6 days) is an exciting island for birds with its combination of SE Asian and Philippine species. Likely are: Chinese Egret, Palawan Peacock-Pheasant, Philippine Scrubfowl, Siberian Tattler, Blue-naped Parrot, Palawan Scops-Owl, Javan Frogmouth, Palawan and Pale-rumped Swiftlets, Brown-backed Needletail, Rufous-backed Kingfisher, Palawan Hornbill, Hooded Pitta, Sulfur-bellied Bulbul, Yellow-throated Leafbird, White-vented Shama, Ashy-headed and Palawan Babblers, Falcated Wren-Babbler, Palawan and Palawan Blue Flycatchers, Blue Paradise-Flycatcher, Palawan Tit, Palawan and Pygmy Flowerpeckers, and Copper-throated and Palawan Sunbirds. With some luck we might see the Great-billed Heron, Philippine Cockatoo, Palawan Racquet-tail, Ruddy Kingfisher, Great Slaty Woodpecker, and Fiery Minivet. Accommodation basic but pleasant.
Our single day on NEGROS (1 day) will get us a crack at several endemics such as Visayan Hornbill (with a lot of luck), White-winged Cuckooshrike, Flame-templed Babbler, and Visayan Flowerpecker. Lemon-throated Warbler, White-vented Whistler, Flaming Sunbird and Yellowish White-eye are likely. Accommodation good.
On BOHOL (3 days), we'll be visiting the Rajah Sikatuna National Park, a birdy and attractive forest. Likely birds are Pompadour Pigeon, Yellow-breasted and Black-chinned Fruit-Doves, Black-faced Coucal, Philippine Boobook, Philippine Frogmouth, Mindanao Hornbill, Azure-breasted Pitta, Striated Wren-Babbler, Black-crowned Babbler, Rufous-fronted and Yellow-breasted Tailorbirds, Philippine Leaf-Warbler, Chestnut-tailed Flycatcher, and Blue Fantail. Possible are: Rufous-lored Kingfisher and Visayan Broadbill. Accommodation comfortable basic.
In CEBU (1 days), we'll look for: Philippine Coucal, Streak-breasted Bulbul, Black Shama, Mangrove Blue Flycatcher, and Cebu Flowerpecker (difficult). We'll also visit (if there is time) a good area for shorebirds on Olango Island, where we may see Far Eastern Curlew, Terek Sandpiper, Asian Dowitcher, Great Knot and other Asian shorebirds. Accommodation good.
On MINDANAO (8 days), we'll be visiting good forested areas up to 1,800 m. (6,000 ft.), insuring us a good supply of the many endemic species to be found there. Possible are: Wandering Whistlingduck, Barred Honey-Kite, Philippine (Monkey-eating) Eagle, Philippine Bush-hen, Blue-breasted Quail, Philippine Woodcock, White-eared Dove, Pink-bellied and Spotted Imperial Pigeons, Blue-crowned and Mindanao Racquet-tails, Philippine Hawk-Cuckoo, Rusty-breasted and Violet Cuckoos, Philippine Drongo-Cuckoo, Australasian Grass-Owl, Chocolate and Mindanao Boobooks, Philippine Nightjar, Philippine Trogon, Silvery Kingfisher, Writhed and Rufous Hornbills, Red-bellied Pitta, Black-bibbed and McGregor's Cuckooshrikes, Yellow-wattled and Yellowish Bulbuls, Philippine Leafbird, Philippine Fairy-bluebird, White-browed Shortwing, Pygmy and Rusty-crowned Babblers, Brown Tit-Babbler, Rufous-headed and White-faced Tailorbirds, Mugimaki and Little Slaty Flycatchers, Rufous Paradise-Flycatcher, Black-and-cinnamon Fantail, Stripe-breasted Rhabdornis, 5 or 6 endemic flowerpeckers, Grey-hooded and Apo Sunbirds, Naked-faced Spiderhunter, Everett's White-eye, Mindanao and Cinnamon Ibons, Philippine Bullfinch, Short-tailed Starling, Apo Myna, and Grey-throated Oriole. With luck, we may see Jerdon's Baza, Oriental Hobby, Dark-eared Dove, Mindanao Lorikeet, Giant Scops-Owl, Blue-capped and Philippine Kingfishers, Wattled Broadbill, Bagobo Babbler, Long-tailed Bush-Warbler, Mindanao Flycatcher, Short-crested and Celestial Monarchs, or Red-eared Parrotfinch. Accommodation at the Philippine Eagle site is a tented camp. There is also a large building to sleep in. Our other accommodations on Mindanao are comfortable.
TOUR CONDITIONS
AIR CONSIDERATIONS: Your internal Philippine air tickets will be purchased by us in Manila to ensure keeping the group together. Please plan to arrive in Manila a day or two early to ensure timely arrival and some time to recover from jet lag.
LAND PRICE BASIS: Land price is based on the number of participants. The tour PARTICIPANT LIMIT is 10 people.
LAND PRICE INCLUDES: Land price includes all ground transportation, double occupancy hotel rooms, all meals, guides, tips, fees, and airport taxes when accompanied by the leader. Bottled water will be provided throughout. NOT INCLUDED are airport taxes when not accompanied by the leader, passports, visas, excess baggage charges, laundry, personal tips, alcoholic beverages, fruit juices (except at breakfast), room service charges, items not on menu of included meals, personal items, souvenirs, sightseeing not included in the itinerary, insurance of any kind, and telephone calls. For those joining only one segment of a tour, meals taken before and after leaving the main tour group are not included.
LAND AND AIR RATES: All prices are based on tariff and exchange rates in effect for this tour. Price changes, due either to alterations in tariffs or exchange rates will be reflected in the prices charged for the tour. KingBird's planning, promotional and operating costs are included in all tour rates.
ACCOMMODATIONS: Based on two persons sharing a twin-bedded room. Single rooms will be available at the supplement charge quoted. In some of the more remote areas, however, single rooms are unavailable. We'll supply roommates where possible, but cannot guarantee to find roommates for all desiring them. If no roommate is available, the single supplement will be charged for any person utilizing single accommodation. First class or best available hotels with private bath and air-conditioning are usually provided where available. However, some accommodation will be quite rustic.
MEALS: All meals are included in the tour price. This will be breakfast, table d'hote lunch and dinner. Box lunches will be utilized on some days. Snacks and soft drinks will be provided on some days afield.
TOUR ESCORT: The president of KingBird Tours, Ben King, will be with you during the entire tour from the time you reach Manila until you depart from Manila. There will be a representative of the local operator with the group at all times to assist wherever he may.
TAXES & GRATUITIES: All necessary gratuities to hotel staff, waiters, local guides, drivers, etc., are included in the tour price. Your tour leader is paid a salary and does not expect tips. Thus it is not necessary to tip anyone on the entire tour. However, if you wish to tip anyone for any reason it is quite all right. All local government taxes are included in the tour price.
BAGGAGE: International flight baggage allowance between USA and Manila is two pieces, each with a maximum total dimension (length, width and height added up) of 106 inches. Note that most US-based airlines now allow only 23 kg. (50 lbs.)/bag—there will be a surcharge on any excess up to 32 kg. (70 lbs.). On many foreign airlines, eachbag may weigh up to 32 kilograms (70 pounds). However, on internal flights in the Philippines, you are allowed a maximum of either 18 kg. (40 lbs.) or 25 kg. (55 lbs.). They are likely to weigh your luggage carefully for each flight. You will be responsible for any excess baggage charges. You are allowed one carry-on bag on all flights. If you have a lot of luggage it may be important to you to be able to leave some gear in Manila. Air carrier's liability for baggage is limited and therefore baggage insurance is recommended and available at nominal rates. Baggage insurance forms will be included along with your interim invoice.
SMOKING RULES:
NO smoking in vehicles.
NO smoking at meal tables.
NO smoking in bedrooms if your roommate does not smoke.
The smoker is expected to see that his smoke does not move toward other members, at all times.
Anyone smoking will be last in line on single-file paths or trails.
---