SOUTH INDIA TOUR
(Including the Forest Owlet, Goa, and the Andaman Islands)
25 days
India, one of the world's most exotic birding hotspots, is too large to cover on a single tour, so we offer several different tours to allow comprehensive coverage of each of its faunal areas. On our South India Tour, we'll see about 340 of the Indian Subcontinent's 1,350+ bird species, including a good number of its 210± endemic species, many of which are found only in southern India.
Winter is the prime time to visit southern India as the intense heat of the other three seasons is moderated, it is the dryer season, and there are more species to be seen because of the presence of Palearctic migrants. Our tour ranges from the dry deciduous forest habitat of the Forest Owlet in the northern part of the Indian Peninsula, to the beautiful lowland forests of Goa, to the submontane rain forests and montane shola forests of the Western Ghats of S.W. India, the thorn scrub of Tamil Nadu, and the tropical rain forests of the Andaman Islands.
Our concentration will be on finding the endemic birds of South India and we'll find most of them, e.g.: Andaman Serpent-Eagle, Grey Junglefowl, Andaman Cuckoo-Dove, Malabar Parakeet, Brown Coucal, Andaman Scops-Owl, Black and Andaman Boobooks, Malabar Grey and Malabar Pied Hornbills, White-cheeked and Crimson-throated Barbets, Andaman Woodpecker, Jerdon's Bushlark, Nilgiri Pipit, Grey-headed and Yellow-throated Bulbuls, White-bellied and Nilgiri Robins, Rufous Babbler, Wynaad, Kerala and Black-chinned Laughingthrushes, Black-and-rufous, Nilgiri, and White-bellied Flycatchers, Crimson-backed Sunbird, White-headed Starling, Andaman Drongo, and White-bellied Treepie. A special effort will be made to find the Forest Owlet. With luck, we may also see: Painted Bush-Quail, Red Spurfowl, Andaman Crake, and Nilgiri and Andaman Wood-Pigeons. We'll see many other species, perhaps including Black Baza, Changeable, Crested and Mountain Hawk-Eagles, Painted Francolin, Chestnut-winged and Pied Cuckoos, Grey-bellied Cuckoo, Violet Cuckoo, Blue-faced Malkoha, Oriental Scops-Owl, Jungle Owlet, Ceylon Frogmouth, Jerdon's and Indian Nightjars, Asian Paradise-Flycatcher, etc. The recently published Birds of South Asia: The Ripley Guidecontains about 50 new splits which add a number of endemics (and others) to our trip list. These are indicated by the scientific name appended to the English name in the lists that follow.
The tour involves some long, tiring drives. Much of the habitat in southern India has been destroyed by the press of its many millions of people, eliminating most birding near cities with airports. Accommodation is modest to first class. The food will range from basic sustenance to tasty. Anyone in good health could manage the tour. It does not involve strenuous walking. Bird walks are normally slow and easy. Join us for a grand birding adventure.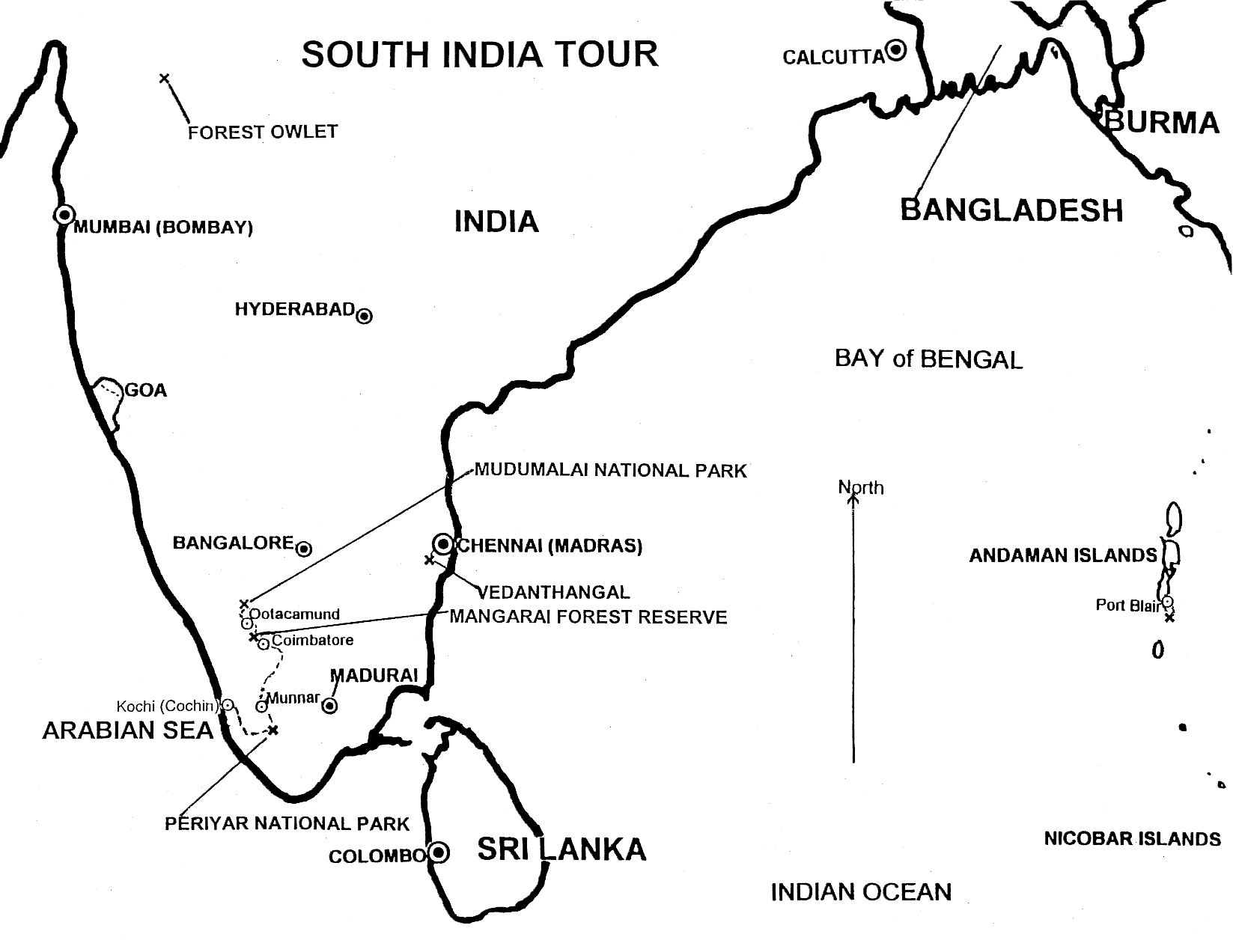 THE LEADER
BEN KING, president of KingBird Tours, has led 48 tours to the Indian Region and is one of the most experienced bird-tour leaders on the Subcontinent, having spent nearly 3 years birding there. He has published A Field Guide to the Birds of South-East Asia and Checklist of the Birds of Eurasia, and has seen over 2,100 species of birds in Asia, including all but 17 of the 1,356 species known to occur in the Indian Subcontinent. His knowledge of the birds, their habits and where they are found assures you of the best possible birding experience in the Indian Region.
THE BIRDING SITES
MELGHAT NATIONAL PARK (4 days) is the premier site for the FOREST OWLET, rediscovered in 1997, after being unseen for 113 years, by Dr. Pamela Rasmussen, David Abbott and myself. Subsequent research by Indian ornithologists has found other sites and increased our knowledge of this rare owl. All our previous tours to see Forest Owlet were quite successful with superb views and our prospects are excellent. Other possible species are: Asian Cattle Egret (Bubulcus coromandus), Red-naped Ibis, Oriental Honey-Kite, Shikra, White-eyed Buzzard, Crested Hawk-Eagle, Red-necked Falcon, Painted Francolin, Jungle Bush-Quail, Red Spurfowl, Grey Junglefowl, Indian Peafowl, Yellow-footed Pigeon, Alexandrine, Rose-ringed and Plum-headed Parakeets, Sirkeer Malkoha, Indian Scops-Owl, Jungle and Spotted Owlets, Crested Treeswift, Stork-billed Kingfisher, Indian Grey Hornbill, Yellow-crowned Woodpecker, Black-rumped Flameback, White-naped Woodpecker, Singing Bushlark (Mirafra cantillans), Ashy-crowned Sparrow-Lark, Rufous-tailed and Tawny Larks, Large Cuckooshrike, Small Minivet, Common Wood-shrike, Large Grey and Jungle Babblers, Grey-breasted, Jungle and Ashy Prinias, Red-breasted Flycatcher, White-browed Fantail, Indian Tit (Parus aplonotus), Crested Bunting, Chestnut-shouldered Petronia, Indian Golden (Oriolus kundoo) and Black-hooded Orioles, White-bellied Drongo and Indian Crow (Corvus culminatus). Accommodation comfortable basic.
GOA (3 days) is a lovely tropical paradise situated on the Arabian Sea. Its miles of beautiful beaches give way inland to paddyfields and farther on to some fine forested areas. Our birding in Goa will center mostly in the forests in search of Western Reef-Egret, White-bellied Sea-Eagle, Crested Serpent-Eagle, Crested Goshawk, Besra, Black Eagle, Mountain Hawk-Eagle, Grey-fronted Pigeon (Treron affinis), Vernal Hanging-Parrot, Plum-headed and Malabar Parakeets, Spot-bellied Eagle-Owl, Ceylon Frogmouth, Jerdon's Nightjar, White-rumped Needletail, Malabar Trogon, Black-backed and Blue-eared Kingfishers, Chestnut-headed Bee-eater, Malabar Pied Hornbill, Brown-headed and Crimson-throated Barbets, Speckled Piculet, Brown-capped, Rufous, and Heart-spotted Woodpeckers, Indian Pitta, Forest Wagtail, Orange Minivet (Pericrocotus flammeus), Malabar Woodshrike (Tephrodornis sylvicola), Flame-throated (Pycnonotus gularis) and Yellow-browed Bulbuls, Golden-fronted Leafbird, Asian Fairy-bluebird, Malabar Whistlingthrush, Puff-throated and Dark-fronted Babblers, Brown-cheeked Fulvetta, Blyth's Reed-Warbler, Greenish, Bright-green and Western Crowned Warblers, Brown-breasted, Red-throated, White-bellied, and Tickell's Blue Flycatchers, Asian Paradise-Flycatcher, Thick-billed and Pale-billed Flowerpeckers, Crimson-backed Sunbird, Black-throated Munia, and Malabar Starling (Sturnus blythii). Accommodation 2 nights in a pleasant tented camp, and 1 night in a nice basic hotel.
THATTAKAD BIRD SANCTUARY (2 days) has some fine remnant tropical rain forest and is an excellent place to see: Black Baza, Mountain Imperial Pigeon, Common Hawk-Cuckoo, Oriental Scops-Owl, Brown Boobook, Mottled Wood-Owl, Great Eared Nightjar, Indian Swiftlet, Malabar Grey Hornbill, White-cheeked Barbet, White-bellied Woodpecker, Lesser Yellownape, Streak-throated Woodpecker, Greater Flameback, Grey-headed Bulbul, Orange-headed Thrush, Indian Scimitar-Babbler, Rufous Babbler, Wynaad Laughingthrush, Large-billed Leaf-Warbler, Rusty-tailed Flycatcher, Malabar Hill Myna (Gracula indica), and White-bellied Treepie.
The MUNNAR (3 days) area is perched high in the Western Ghats in Kerala. There are nice patches of forest (sholas) left amidst the grass, grazing land and cultivation, where we'll look for the local endemics and other birds: Nilgiri Wood-Pigeon, Alpine Swift, Hill Swallow (Hirundo domicola), White-browed Wagtail, Nilgiri Pipit, Sooty Bulbul (Hypsipetes ganeesa), Jerdon's Leafbird (Chloropsis jerdoni), White-bellied Robin (Myiomela albiventris), Kerala Laughingthrush (Garrulax fairbanki), Tickell's, Large-billed and Tytler's Leaf-Warblers, Black-and-rufous and Nilgiri Flycatchers, and Common Rosefinch. We'll search for the Yellow-throated Bulbul on the dry western slopes of the hills. We may see the endangered Nilgiri Tahr. Accommodation comfortable.
The MANGARAI FOREST RESERVE near Coimbatore (1 day) will give us an opportunity to see Short-toed Eagle, Blue-faced Malkoha, Jerdon's Bushlark (Mirafra affinis), Black-headed Cuckooshrike, White-browed Bulbul, Black-headed Thrush (Turdus nigropileus), Tawny-bellied and Yellow-billed Babblers, Jungle Prinia, Asian Paradise-Flycatcher, and Purple-rumped and Long-billed Sunbirds.
OOTACAMUND (2 days) is a picturesque hill station, one of the cool summer resorts of the Raj. Our target birds here will be Nilgiri Wood-Pigeon, Brown Wood-Owl, Nilgiri Robin (Myiomela major), Indian Blackbird (Turdus simillimus), and Black-chinned Laughingthrush (Garrulax cachinnans). Accommodation comfortable.
MUDUMALAI NATIONAL PARK (1 day) is a large area of mostly dry deciduous forest where we'll try to find: White-rumped Vulture, Grey Francolin, Yellow-wattled Lapwing, Brown Fish-Owl, Eurasian Hoopoe, Malabar Lark, Wire-tailed Swallow, Richard's, Oriental and Blyth's Pipits, White-bellied Minivet, Bar-winged Flycatcher-shrike, Bay-backed Shrike, Indian Robin, Blue-capped Rockthrush, Booted Warbler, Hume's Whitethroat, Tickell's Blue Flycatcher, Indian Nuthatch (Sitta cinnamoventris), and Brahminy Starling.
VEDANTHANGAL(1 day) is an excellent wetland area teeming with waterbirds: Indian and Little Cormorants, Oriental Darter, Grey Heron, Great, Intermediate and Little Egrets, Indian Pond-Heron, Asian Openbill, Glossy and Black-headed Ibises, Spot-billed Duck, Black-shouldered Kite, etc. At three other sites near Chennai (Madras), including GUINDY NATIONAL PARK, we may also see Yellow-legged Buttonquail, Chestnut-winged, Pied, and Grey-bellied Cuckoos, and Indian Eagle-Owl. Accommodation first class.
The ANDAMAN ISLANDS (5 days) have been mostly closed to foreigners, but access to the southern part of South Andaman Island is permitted. Your leader, Ben King, is one of the few ornithologists who have extensively explored the forests there. Endemism is high among the interesting birds we will seek: Pacific Reef-Egret, Andaman Serpent-Eagle, Eastern Marsh-Harrier, Changeable Hawk-Eagle, Slaty-breasted Rail, Andaman (maybe) and Ruddy-breasted Crakes, Watercock, Andaman Wood-Pigeon, Andaman Cuckoo-Dove, Pink-cheeked Parakeet, Violet Cuckoo, Brown Coucal, Andaman Barn-Owl (Tyto deroeptorffi), Andaman Scops-Owl, Black (Ninox obscura) and Andaman Boobooks, Andaman Nightjar (Caprimulgus andamanicus), Brown-backed Needletail, Spot-breasted (Picoides analis) and Andaman Woodpeckers, Andaman Cuckooshrike (Coracina dobsoni), Scarlet Minivet (Pericrocotus speciosus), Andaman Bulbul (Pycnonotus fuscoflavescens), Andaman Shama (Copsychus albiventris), Andaman Flowerpecker (Dicaeum virescens), White-headed Starling, Andaman Drongo and Andaman Treepie. Accommodation comfortable and pleasant, overlooking a bay.

THE ITINERARY
| | |
| --- | --- |
| Saturday | Arrive Mumbai (Bombay. Overnight Orchid Hotel. |
| 22 days | On tour. |
| Sunday | AM fly Port Blair/Chennai (Madras). Day room Trident Hotel. Tour ends in Chennai. Those traveling home from Mumbai, be sure to get Chennai/Mumbai sector on international air ticket. |
AIR FARE: The tour begins in Mumbai and ends in Chennai. Because the tour ends in Chennai, be sure to get the Chennai/Mumbai sector with your international air ticket (this is likely to be cheaper). We will be supplying the internal India flights starting in Mumbai and ending in Chennai. Please plan to arrive a day or two early in Mumbai to ensure timely arrival and allow some time to get over jet lag.
LAND PRICE / NUMBER OF PARTICIPANTS: The land price is based on the number of participants. The maximum number of participants will be 10.
LAND PRICE INCLUDES: Land price includes all ground transportation, double occupancy hotel rooms, all meals, soft drinks and bottled water with meals, guides, tips, fees, and foreign airport taxes when accompanied by the leader. NOT INCLUDED are airport taxes when not accompanied by the leader, passports, visas, service charges for obtaining visas, excess baggage charges, laundry, personal tips, alcoholic beverages, fruit juices (except at breakfast), room service charges, items not on menu of included meals, personal items, souvenirs, sightseeing not included in the itinerary, insurance of any kind, and telephone calls. For those joining only part of a tour, meals taken before and after leaving the group are normally not included.
LAND AND AIR RATES: All prices are based on tariff and exchange rates in effect for the tour. Price changes, due either to alterations in tariffs or exchange rates, will be reflected in the prices charged for the tour. KingBird Tour's planning, promotional and operating costs are included in all tour rates.
ACCOMMODATIONS: Based on two persons sharing a twin-bedded room. Single rooms will be available at the supplement charge quoted. In some of the more remote areas, however, single rooms are unavailable. We'll supply roommates where possible, but cannot guarantee to find roommates for all desiring them. If no roommate is available, the single supplement will be charged for any person utilizing single accommodation. First class or best available hotels with private bath and air-conditioning are provided where available. However, some accommodation will be basic.
MEALS: All meals will be provided, i.e., breakfast, table d'hote lunch, and dinner. Box lunches will be utilized on some days.
TOUR ESCORT: The leader of your tour, Ben King, will be with you during the entire tour shortly after you reach Mumbai until you depart from Chennai. There will also be a representative of the local tour company with the group at all times to assist wherever he may.
TAXES AND GRATUITIES: All necessary gratuities to hotel staff, waiters, local guides, drivers, etc. are included in the tour price. Your tour leader is paid a salary and does not expect tips. Thus it is NOT necessary to tip anyone on the entire tour. However, if you wish to tip anyone for special services, or because you like them, it is quite all right. All local government taxes are included in the tour price.
LOCAL FEES: All park entry fees and still camera fees are included in the tour price. Motion picture and video fees are NOT included. (Most parks have camera fees.)
BAGGAGE: International flight baggage allowance from New York to India is two pieces with a maximum total dimension (length, width, height of both pieces added up) of 106 inches. Note that most US airlines now allow a maximum of 23 kg. (50 lbs.) for each bag (you will be charged for any excess). Many foreign airlines still allow up to 32 kg. (70 lbs./bag). However, all internal flights in India allow a maximum of 20 kg. (44 lbs.). They are likely to weigh your luggage carefully at least once or twice and perhaps each time. You will be responsible for any excess baggage charges. You are allowed one carry-on bag on all flights. Technically the 44-pound limit includes your carry-on bag and occasionally a zealous agent will demand that the rules be followed. Air carriers liability for baggage loss is limited and baggage insurance is recommended. Baggage insurance forms will be included with your interim invoice.
SMOKING RULES: (1) NO smoking in vehicles. (2) NO smoking at meal tables. (3) NO smoking in bedrooms if your roommate does not smoke. (4) The smoker is expected to see that his smoke does not move toward other tour members, at all times. (5) Anyone smoking will be last in line on single-file paths or trails.
---