INDONESIA TOUR
SULAWESI/HALMAHERA
28 days
Here is a fine opportunity to see some of the world's most intriguing birds amidst spectacular scenery and tropical rain forests in the most diverse and fascinating archipelago on earth! With its more than 13,000 islands, Indonesia has the least known and one of the most varied avifaunas on our planet. Sulawesi and Halmahera are among the largest and most interesting of these islands and have a surprising number of endemics among their many unusual birds. We had a grand time on these exotic islands on our 9 previous tours and we'll be repeating our route with some modifications to add a few birds. We expect over 250 species, many of which are little known.
The star attraction on Halmahera is the Wallace's Standardwing, which we expect to see, while on Sulawesi it is the Maleo, an endangered megapode, which has become difficult to see, but we have a good chance. Other fine birds we should see are: 18-21 diurnal raptors, a number of very attractive fruit-doves and imperial pigeons, White Cockatoo, 14-16 parrots, Yellow-billed Malkoha, several coucals, 5-7 owls, an owlet-nightjar, 10-14 kingfishers, 3 hornbills, Red-bellied and Ivory-breasted Pittas, 8-9 cuckooshrikes, some attractive flycatchers and monarchs, 4-5 whistlers, 4 flowerpeckers, 6 white-eyes, a few honeyeaters, 4 very exotic mynas, etc.
Our accommodations will range from good in Manado to some rustic guesthouses. Our food will be pretty basic, but rather good for the most part. There are some long walks on rough trails. There are several long, tiring drives to get to the birds at Lore Lindu National Park, and the drive from Palu to Manado is a long slog, but otherwise the tour is not particularly demanding. If you are in good health and fair shape, you'll manage this trip quite well. The weather will be hot and sticky in some areas. We have found very good local people to work with, so it will be mostly pretty smooth going. A sense of humor and adventure and a little patience are all you need to have a marvelous time on this exciting trip. You'll find the Indonesians most gracious and hospitable.
The rampant destruction of the forests in the national parks and reserves we visit ensures that in a very few years, there will be no accessible forest, especially on Sulawesi. If you wish to visit these two marvelous islands for birding, best do it soon or forget it!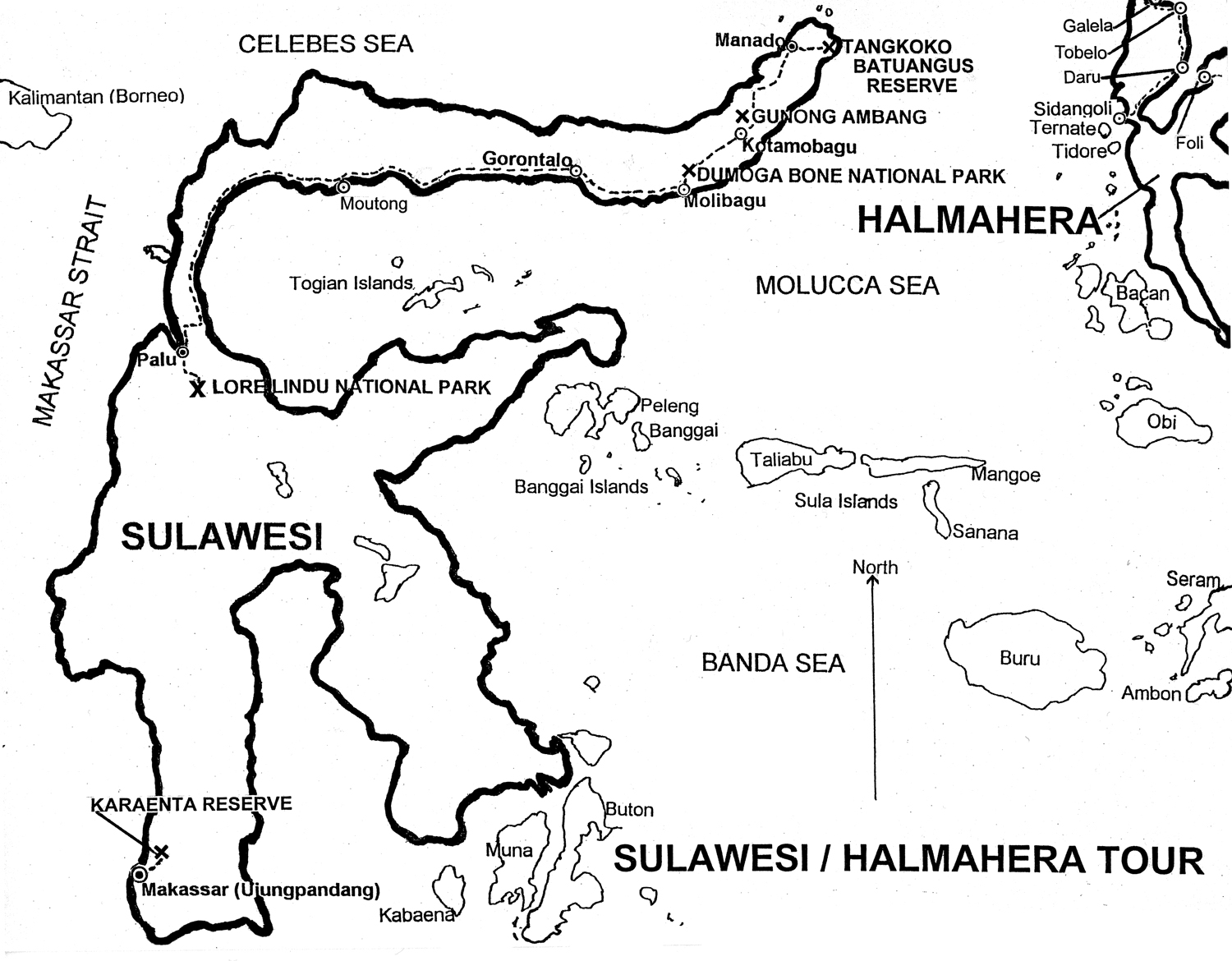 THE LEADER
BEN KING, the president of KingBird Tours, is one of the most experienced bird tour leaders in the world, having led 144 tours to various parts of Asia. He has written A Field Guide to the Birds of Southeast Asia and Checklist of the Birds of Eurasia. He has seen over 2,100 species of birds in Asia, believed to be a record. He has spent 3 years birding in all the major regions of Indonesia, including leading our 28 tours to various islands. His knowledge of the birds, their habits and how to find them assures you of the best possible birding experience in Indonesia.
SULAWESI
Sulawesi's most fascinating bird is the Maleo, an endangered megapode, which we have a chance of seeing. This unusual bird buries its eggs in a community mound. The heat generated by the decaying vegetation in the mound incubates the eggs. The Maleo works on the mound daily to ensure the proper temperature for the eggs. When the chicks emerge from the eggs, they dig their way out of the mound and are fully independent and already able to fly.
Many other birds are likely, e.g.: Wandering Whistlingduck, Sunda Teal (split from Grey Teal), Barred Honey-Kite, Sulawesi Serpent-Eagle, Sulawesi and Spot-tailed Goshawks, Sulawesi Hawk-Eagle, Buff-banded and Barred Rails, Isabelline Waterhen, Slender-billed and White-faced Cuckoo-Doves, Grey-cheeked Pigeon, Red-eared, Maroon-chinned, Superb and Black-naped Fruit-Doves, White-bellied, Grey-headed, and Silver-winged Imperial Pigeons, Ornate and Yellow-and-green Lorikeets, Yellowish-breasted and Gold-backed Racquet-tails, Azure-rumped Parrot, Sulawesi and Pygmy Hanging-Parrots, Rusty-breasted Cuckoo, Black-billed Koel, Yellow-billed Malkoha, Bay Coucal, Sulawesi Owl, Sulawesi Scops-Owl, Ochre-bellied, Speckled, and Rufous (Ninox ios) Boobooks, Moluccan and Uniform Swiftlets, Green-backed, Masked, Black-billed and Sulawesi Kingfishers, Purple-bearded Bee-eater, Purple-winged Roller, Sulawesi and Knobbed Hornbills, Sulawesi and Ashy Woodpeckers, Red-bellied Pitta, Cerulean, Pied, White-rumped, Pygmy and Sulawesi Cuckooshrikes, White-rumped and White-shouldered Trillers, Sulawesi Babbler, Malia, Island, Blue-fronted and Citrine Flycatchers, Pale-blue Monarch, Rusty-flanked Fantail, Olive-flanked, Maroon-backed and Sulfur-bellied Whistlers, Yellow-sided, Crimson-crowned and Grey-sided Flowerpeckers, Brown-throated and Black Sunbirds, Mountain, Lemon-bellied, Black-ringed, and Black-crowned White-eyes, Streak-headed Ibon, Sulawesi Myzomela, Dark-eared and White-eared Myzas, Pale-headed Munia, Sulawesi, White-necked, Fiery-browed, and Finch-billed Mynas, Ivory-backed Woodswallow, and Piping Crow.
With luck, we could see: Great-billed Heron, Jerdon's Baza, Small and Vinous-breasted Sparrowhawks, Oriental Hobby, Philippine Scrubfowl, Stephan's Dove, Sombre Pigeon, Diabolical and Sulawesi Nightjars, Scaly and Ruddy Kingfishers, Geomalia, Great Shortwing, Rusty-backed Thrush, Sulawesi Thrush, Chestnut-backed Bush-Warbler, Rufous-throated and Matinan Flycatchers, Mountain Serin, or Blue-faced Parrotfinch. On our 1997 tour, we discovered what appears to be an undescribed Muscicapa flycatcher. We saw two of them on our 2007 tour and hope to see it again.
HALMAHERA
Halmahera, the largest of the Maluku (Molucca) Islands, is the home of Wallace's Standardwing, one of the most unusual of the Birds-of-Paradise. Its spectacular courtship display, "parachuting" with spread wings, vivid green breast shield spread and shining, and standards fluttering above its back, has only recently been described. We were able to witness this display on all our previous trips. We should also be able to see the Paradise Crow, the only other bird-of-paradise in the Maluku Islands. Most of our birding will be along logging roads that cut through some good birding habitat.
Birds we should see: Grey-throated and Moluccan Goshawks, Gurney's Eagle, Superb, Blue-capped, and Gray-headed Fruit-Doves, Spectacled, Cinnamon-bellied & Pied Imperial-Pigeons, Violet-necked Lory, Red-flanked Lorikeet, White Cockatoo, Great-billed Parrot, Moluccan Hanging Parrot, Goliath Coucal, Moluccan Scops-Owl, Moluccan Boobook, Moluccan Owlet-Nightjar, Common Paradise-Kingfisher, Blue-and-White, Sombre and Beach Kingfishers, Papuan Hornbill, Ivory-breasted Pitta, Moluccan, White-bellied, and Halmahera Cuckoo-shrikes, Cicadabird, Rufous-bellied Triller, Golden Bulbul, Slaty Flycatcher, White-naped and Spectacled Monarchs, Dark-grey and Shining Flycatchers, Golden and Drab Whistlers, Flame-breasted Flowerpecker, Cream-throated White-eye, Moluccan Myzomela, White-streaked Friarbird, Moluccan and Metallic Starlings, Dusky Oriole, and Long-billed Crow.
We might see Bulwer's Petrel, Wedge-tailed Shearwater, Pacific Baza, Rufous-necked Sparrowhawk, Dusky and Moluccan Scrubfowl, Pale-vented Bush-hen, Beach Thick-knee, Great Cuckoo-Dove, Nicobar Pigeon, Scarlet-breasted Fruit-Dove, Chattering Lory, Moluccan King-Parrot, Variable, Little and Azure Kingfishers, Purple Roller, and Dusky Friarbird.
THE BIRDING SITES
SULAWESI (17 days) offers some of the best birding in Indonesia, with lots of interesting and colorful endemic species. There are still some good forest tracts where we'll be able to see a fine sample of Sulawesi's birds. Habitats covered will range from lowland to montane rain forests, and from tranquil sandy beaches and mangroves to savanna. Most of our birding will be in central and northern Sulawesi, with one birding site in southern Sulawesi at the KARAENTA RESERVE (1 day), a good place for Black-ringed White-eye. TANGKOKO BATUANGUS RESERVE (3 days) is a rather dry lowland forest area for a good introduction to Sulawesi birding. The lowlands near PALU (1 day) will give us a look at the remnants of savanna there as well as mixed cultivation, brush and paddyfields. In LORE LINDU NATIONAL PARK (6 days), we'll explore tropical rain forest from 900-2,100m. (3,000-7,000 ft.) for a good sampling of Sulawesi's montane birds. BOGANI NANI WARTABONE NATIONAL PARK (formerly Dumoga Bone: (5 days) is a lowland rain forest area with a very interesting mix of species. GUNONG AMBANG (1 day) is a forested mountain at about 1,400 m. (4,700 ft.) where we'll search for the Rufous Boobook and Matinan Flycatcher. On our fascinating drive along Sulawesi's entire northern arm from Palu to Manado, we'll visit two fine wetlands as well as a good forest patch.
On HALMAHERA (6 days), we'll visit several sites on its northwestern and northeastern arms mostly birding areas of forest near the roads. We'll also check out the interior of several forest patches on trails.
THE ITINERARY
| | |
| --- | --- |
| Wednesday | Arrive Manado. Overnight Tangkoko. |
| 23 days | On tour. |
| Saturday | Depart Manado. |
AIR CONSIDERATIONS: The tour begins and ends in Manado in northern Sulawesi. Singapore Airlines has flights to and from Manado via Singapore. We will purchase your internal Indonesia air tickets in order to keep the group together. Please plan to arrive in Manado a day or two early to ensure timely arrival and have some time to get over jet lag. Note that there are world-class diving opportunities near Manado.
PARTICIPANT LIMIT: 10 persons.
LAND PRICE BASIS: Land price is based on the number of participants.
LAND PRICE INCLUDES: Land price includes all ground transportation, double occupancy hotel rooms, all meals, bottled water as needed, guides, tips, fees, and airport taxes when accompanied by the leader. NOT INCLUDED are airport taxes when not accompanied by the leader, passports, visas, service charges for obtaining visas, excess baggage charges, medical examinations or treatment, meal or other charges incurred which are not part of the itinerary (caused by unforseen delay beyond our control), laundry, personal tips, alcoholic beverages, soft drinks, fruit juices (except at breakfast), mineral waters, room service charges, items not on menu of included meals, personal items, souvenirs, sightseeing not included in the itinerary, insurance of any kind, and telephone calls.
LAND & AIR RATES: All prices are based on tariff and exchange rates in effect for this tour. Price changes, due to alterations in tariffs or exchange rate, will be reflected in the prices charged for the tour. KingBird Tours' planning, promotional & operating costs are included in all tour rates.
TRANSPORTATION: Surface transportation will be by minibus, cars and 4-wheel drive vehicles.
ACCOMMODATIONS: Based on two persons sharing a twin-bedded room. Single rooms will be available at the supplement charge quoted. In some of the more remote areas, however, single rooms are unavailable. We'll supply roommates where possible, but cannot guarantee to find roommates for all desiring them. If no roommate is available, the single supplement will be charged for any person utilizing single accommodation. Best available hotels with private bath and air-conditioning are provided where available. However, most accommodation will be basic to rustic.
MEALS: All meals are included in the tour price. This will be breakfast, table d'hote lunch and dinner. A la carte meals will be provided at some hotels where there is a choice of menu. Box lunches will be utilized on some days. For those joining only a segment of the tour, meals are normally not included when you are not with the main tour group (prior to joining or after leaving).
TOUR ESCORT: The leader of your tour, Ben King, the president of KingBird Tours, will be with you during the entire tour from the time you reach Manado until you depart from Manado.
TAXES & GRATUITIES: All gratuities to hotel staff, waiters, local guides, drivers, etc., are included in the tour price. Your tour leader is paid a salary and does not expect tips. Thus it is not necessary to tip anyone on the entire tour. However, if you wish to tip anyone for any reason it is quite all right. All local government taxes are included in the tour price.
BAGGAGE: International flight baggage allowance from USA to Manado and return is two pieces with a total dimension (length, width, height of both pieces added up) of 107 inches. Note that most USA-based airlines now allow only 23 kg. (50 lbs.)/bag. On many foreign airlines, each bag may weigh up to 32 kg. (70 lbs.). However, on internal flights in Indonesia, you are allowed a maximum of 20 kg. (44 lbs.). They are likely to weigh your luggage carefully at least once or twice and perhaps each time. You will be responsible for any excess baggage charges. Charges are not high however, so bring what you need. You are allowed one carry-on bag on all flights. Air carrier's liability for baggage loss is limited and therefore baggage insurance is recommended and available at nominal rates. Baggage insurance forms will be included along with your interim invoice.
SMOKING RULES:
NO smoking in vehicles.
NO smoking at meal tables.
NO smoking in bedrooms if your roommate does not smoke.
The smoker is expected to see that his smoke does not move toward other members, at all times.
Anyone smoking will be last in line on single-file paths or trails.
---