INDONESIA TOUR
SOUTH SUMATRA
24 days
Recent road and accommodation improvements have finally made it possible to visit some of Sumatra's richest birding areas, giving you a chance at most of the Sumatran endemic bird species without the rigors of camping. We'll spend our time in four of Sumatra's best accessible birding sites, two in Kerinchi-Sablat National Park in the mountains of Sumatra's spinal chain, the Bukit Barisan Selatan National Park at foothill and submontane level near Liwa, and Way Kambas National Park in the lowlands on the south coast.
The majority of Sumatra's endemics are in the mountains of the spinal chain that runs the length of the island. Kerinchi-Sablat National Park is in the south central part of this chain. The centerpiece of the park is Gunung (Mt.) Kerinchi, Sumatra's highest peak at 3,800 meters (12,540 ft.). We'll look for birds about 1,800-2,500 m. (6,000-8,400 ft.). Our second site in the park will allow us to cover the area between 400-1,500 meters (1,300-5,000 ft.) along an asphalt road that cuts through the park to the western coast. These two areas will give us a crack at most of the montane species. The forests in the Bukit Barisan Selatan National Park near Liwa will allow us to add some interesting species in the foothill/submontane zone. Way Kambas National Park is situated at the southern end of Sumatra in the coastal lowlands. It consists of coastal wetlands and lowland forest. We'll spend our time searching the riverine forests and swamps. Way Kambas is a primary site for the White-winged Duck and we'll do our best to find it. We should see over 250 species of birds. We've also seen up to 6 species of primates, Serow, Leopard Cat, tapir, Binturong, mouse deer, crocodile and Common Cobra on previous tours.
This tour is moderately physically demanding. Our birding on Mt. Kerinchi will involve walking a trail between 1,800-2,500 meters (6,000-8,400 ft.). While some sections are fairly steep, all walking on this trail will be quite slow. Our walking at the other site in Kerinci-Sablat National Park and in Bukit Barisan Selatan National Park will be mostly downhill on asphalt roads. Way Kambas National Park is hot and humid, with a road and some good trails for birding, as well as several relaxing boat trips along a river. Accommodation at our four sites is basic, while comfortable in Jakarta and Padang. The food is okay to good. Anyone in good health and moderate physical shape will be just fine.
Note that the tour route is well away from potentially risky areas of northern Sumatra's Aceh Province which is politically volatile, and the site of extensive tsunami damage.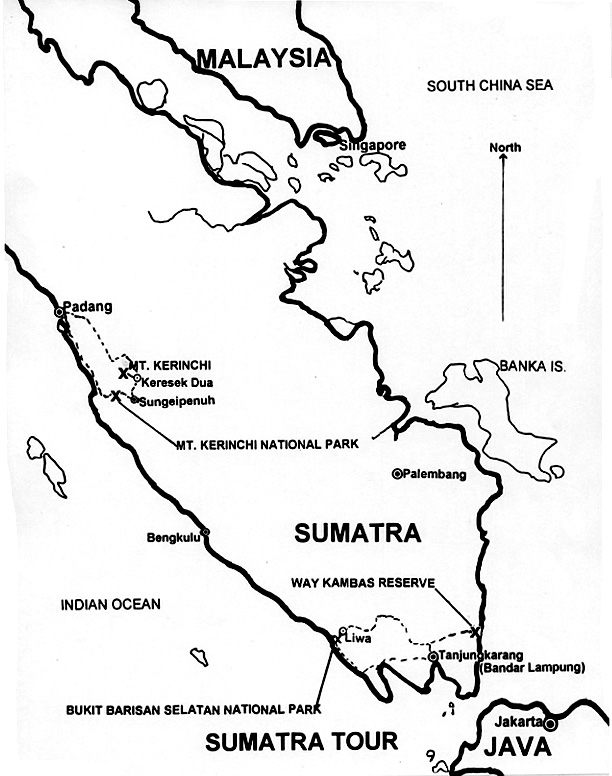 THE LEADER
BEN KING, the president of KingBird Tours, has led 144 birding tours in Asia and is the most experienced bird-tour leader on that continent. He has observed over 2,100 species of birds in Asia. Ben has written A Field Guide to the Birds of South-East Asia and Checklist of the Birds of Eurasia. He is the most experienced bird-tour leader for Sumatra, having led 10 tours and done extensive field research there. He has seen all but 7 of the 600+ species of birds recorded for Sumatra. His knowledge of the birds, their habits and where they are found assure you of the best possible birding experience in Sumatra.
THE BIRDING SITES
JAKARTA MARSH—MAURA ANGKE (1 day) is a good place to see Oriental Darter, Purple Heron, Javan Pond-Heron, White-browed Crake, Purple Swamphen, Island Collared Dove, Pink-necked Pigeon, Plaintive Cuckoo, Cave Swiftlet, Sacred and Cerulean Kingfishers, Sunda and Fulvous-breasted Woodpeckers, Clamorous Reed-Warbler, Bar-winged Prinia, Ashy Tailorbird, Mangrove Blue Flycatcher, Yellow-breasted Gerygone, Scarlet-headed Flowerpecker, and Javan Myna. With luck, we might see Yellow, Cinnamon, or Black Bittern, Milky Stork, Glossy Ibis, Sunda Teal, Slaty-breasted Rail, Ruddy-breasted Crake, Sunda Coucal, Streaked Weaver, Black-winged Starling, or Racket-tailed Treepie.
Some of the special birds of the HIGHER FORESTED SLOPES OF MT. KERINCHI IN KERINCI-SABLAT NATIONAL PARK (6 days) are: Salvadori's Pheasant, Bronze-tailed Peacock-Pheasant, Dusky Woodcock, Salvadori's Nightjar, Schneider's Pitta, and Sumatran Cochoa. All of these are quite difficult to see, but we hope to see two or three of them. Other species present and more likely are: Red-billed Partridge, Short-tailed Frogmouth, Barred Cuckoo-Dove, Pink-headed Fruit-Dove, Blue-tailed Trogon, Fire-tufted Barbet, Grey-capped and Maroon Woodpeckers, Grey-chinned and Sunda Minivets, Orange-spotted and Sunda Bulbuls, Lesser Shortwing, White-browed Shortwing (its song is quite different - separate species?), Sunda Robin, Shiny and Brown-winged Whistlingthrushes, Rusty-breasted, Long-billed, Eye-browed, and Pygmy Wren-Babblers, Golden, Grey-throated and Spot-necked Babblers, Silver-eared Mesia, White-browed Shrike-Babbler, Long-tailed Sibia, Sunda Bush-Warbler, Hill Prinia, Mountain Tailorbird, Yellow-breasted and Sunda Warblers, Indigo Flycatcher, Rufous-vented Niltava, Pygmy Blue Flycatcher, White-throated Fantail, Blue Nuthatch, Scarlet Sunbird, Black-capped White-eye, Black-and-crimson Oriole, and Green Magpie. We'll also visit Gunung Toujou, another mountain nearby that might add a few species.
The SUBMONTANE ZONE IN KERINCHI-SABLAT NATIONAL PARK (6 days) has some different species: Crested Serpent-Eagle, Black Eagle, Rufous-bellied Eagle, Blyth's Hawk-Eagle, Little Cuckoo-Dove, Green-spectacled Pigeon, Mountain Imperial Pigeon, Asian Emerald Cuckoo, Green-billed Malkoha, Bushy-crested, Wreathed, Rhinoceros, and Helmeted Hornbills, Collared Owlet, Brown Wood-Owl, Red-headed Trogon, Gold-whiskered, Black-browed and Blue-eared Barbets, Rufous Piculet, Black-and-yellow and Long-tailed Broadbills, Sunda Cuckooshrike, Blue-masked Leafbird, Cream-striped, Spot-necked, Scaly-breasted, Grey-bellied, and Ashy Bulbuls, Sunda Forktail, Horsfield's Babbler, Sunda, Black, and Chestnut-capped Laughingthrushes, Rufous-chested and Pale Blue Flycatchers, Yellow-breasted, Crimson-breasted, Thick-billed and Buff-bellied Flowerpeckers, Yellow-eared and Grey-breasted Spiderhunters, Sumatran Drongo, Crested Jay, and Sumatran Treepie. Oriental Hobby, Sumatran Pitta and Marbled Wren-Babbler are possible. We've seen Serow and Binturong here.
BUKIT BARISAN SELATAN NATIONAL PARK (3 days) is bisected by an asphalt road which will allow us some good roadside birding in the foothill, submontane zone. We'll pick up some interesting species that we miss at Kerinci and Way Kambas, such as Ferruginous Partridge, Raffles's Malkhoa, Waterfall Swift (maybe), Grey-rumped and Whiskered Treeswifts, Red-bearded Bee-eater, Grey-and-buff Woodpecker, Banded Broadbill, Streaked Bulbul, Green Iora, Asian Fairy-bluebird, Chestnut-naped Forktail, Grey-headed and Rufous-capped Babblers, Grey-chested Flycatcher, Plain, Red-throated, and Ruby-cheeked Sunbirds, Pin-tailed Parrotfinch (maybe), and Javan and White-headed Munias.
Our major goal at WAY KAMBAS NATIONAL PARK (5 days) will be to see the White-winged Duck. We will concentrate our efforts on it but cannot guarantee we'll be able to find it. There are only a few and they are often difficult to see. Besides the duck, the lowland forest is very rich with the entire lowland fauna of Sumatra and many fascinating birds to be seen: Storm's Stork, Lesser Adjutant, Grey-headed and Lesser Fish-Eagles, Changeable and Wallace's Hawk-Eagles, Black-thighed Falconet, Crested Partridge, Red Junglefowl, Crested Fireback, Cinnamon-headed and Little Green Pigeons, Green Imperial Pigeon, Blue-rumped Parrot, Blue-crowned Hanging-Parrot, Moustached and Malaysian Hawk-Cuckoos, Violet Cuckoo, several malkohas, Oriental Bay Owl, Rufesent and Sunda Scops-Owls, Buffy Fish-Owl, Brown Boobook, Large, Gould's and Sunda Frogmouths, Malaysian-Eared and Bonaparte's Nightjars, several trogons, Rufous-collared, Banded, Stork-billed, Rufous-backed, and Blue-eared Kingfishers, Wrinkled and Black Hornbills, Red-crowned and Brown Barbets, Banded, Checker-throated, White-bellied, Buff-rumped, Buff-necked, Olive-backed, Orange-backed, and Great Slaty Woodpeckers, Dusky and Black-and-red Broadbills, Hooded and Banded Pittas, Lesser Cuckooshrike, Fiery Minivet, Black-winged Flycatcher-shrike, Puff-backed Bulbul, Rufous-tailed Shama, Malaysian Rail-Babbler, Black-capped, Short-tailed, White-chested, Ferruginous, Sooty-capped, Scaly-crowned, Rufous-crowned, and Grey-breasted Babblers, Chestnut-backed Scimitar-Babbler, Chestnut-rumped, Black-throated, and Chestnut-winged Babblers, Fluffy-backed Tit-Babbler, Rufous-tailed Tailorbird, Sunda and Malaysian Blue Flycatchers, Rufous-winged Philentoma, Asian Paradise-Flycatcher, Purple-naped and Purple-throated Sunbirds, White-bellied Munia, Dark-throated Oriole, and Black Magpie. We've seen the Leopard Cat and tapir here. Present are tiger, elephant, Sun Bear and Sumatran Rhino, but we're unlikely to see them.
THE ITINERARY
| | |
| --- | --- |
| Saturday | Arrive Jakarta. Overnight Harris Hotel. |
| 21 days | On tour. |
| Sunday | Depart Jakarta. |
TOUR CONDITIONS
AIR CONSIDERATIONS: The tour begins and ends in Jakarta. We will purchase the Indonesia internal air tickets in Jakarta to insure keeping the group together. Please plan to arrive in Jakarta a day or two early to ensure timely arrival and allow some time to get over jet lag.
PARTICIPANT LIMIT: 10 persons.
LAND PRICE BASIS: Land price is based on the number of participants.
LAND PRICE INCLUDES: Land price includes all ground transportation, double occupancy hotel rooms, all meals, bottled water with meals (where available), guides, tips, fees, & airport taxes when accompanied by the leader. NOT INCLUDED are airport taxes when not accompanied by the leader, passports, visas, service charges for obtaining visas, excess baggage charges, medical examinations or treatment, meal or other charges incurred which are not part of the itinerary (caused by unforeseen delay beyond our control), mineral waters, room service charges, items not on menu of included meals, personal items, souvenirs, sightseeing not included in the itinerary, insurance of any kind, and telephone calls.
LAND AND AIR RATES: All prices are based on tariff and exchange rates in effect for this tour. Price changes, due either to alterations in tariffs or exchange rates, will be reflected in the prices charged for the tour. KingBird Tours' planning, promotional and operating costs are included in all tour rates.
TRANSPORTATION: Surface transportation will be by minibus, cars or 4-wheel drive vehicles, and boat.
ACCOMMODATIONS: Based on 2 persons sharing a twin-bedded room. Single rooms will be available at the supplement charge quoted. In some of the more remote areas, however, single rooms are unavailable. We'll supply roommates where possible, but cannot guarantee to find roommates for all desiring them. If no roommate is available, the single-supplement will be charged for any person utilizing single accommodation. Comfortable hotels with private bath and air-conditioning are provided in Jakarta and Padang. Other accommodations will be basic.
MEALS: All meals are included in the tour price. This will be breakfast, table d'hôte lunch and dinner. A la carte meals will be provided at some hotels. Box lunches will be utilized on some days. For those joining only a segment of the tour, meals are normally not included when you are not with the main tour group (prior to joining or after leaving).
TOUR ESCORT: The leader of your tour, Ben King, the president of KingBird Tours, will be with you during the entire tour from the time you reach Jakarta until you depart from Indonesia. An English-speaking representative of the local travel agent will be with us throughout to assist where he may.
TAXES AND GRATUITIES: All necessary gratuities to hotel staff, waiters, local guides, drivers, etc., are included in the tour price. Your tour leader is paid a salary and does not expect a tip. Thus it is not necessary to tip anyone on the entire tour. However, if you wish to tip anyone for special services or because you like them, it is quite all right. All local government taxes are included in the tour price.
AIRPORT TAXES: These will be paid by your leader when he is accompanying you. When he is not with you, these taxes are your own responsibility.
BAGGAGE: International flight baggage allowance from Los Angeles to Jakarta to Los Angeles is two pieces with a maximum total dimension (length, width, height of both pices added up) of 107 inches. Note that most USA-based airlines now allow only 23 kg. (50 lb.)/bag – there will be a surcharge for any excess up to 70 lbs. (32 kg.). On many foreign airlines, each bag may weigh up to 32 kg. (70 lbs). However, on internal flights in Indonesia you are allowed a maximum of 20 kg. (44 lbs.). They are likely to weigh your luggage carefully at least once or twice and perhaps each time. You will be responsible for any excess baggage charges. Charges are not high however, so bring what you need. You are allowed one carry-on bag on all flights. Air carrier's liability for baggage loss is limited and therefore baggage insurance is recommended and available at nominal rates. Baggage insurance forms will be included along with your interim invoice.
SMOKING RULES: (1) NO smoking in vehicles. (2) NO smoking at meal tables. (3) NO smoking in bedrooms if your roommate does not smoke. (4) The smoker is expected to see that his smoke does not move toward the other tour members, at all times. (5) Anyone smoking will be last in line on single-file paths or trails.
---