THAILAND TOUR

23 days

Thailand is a sprawling tropical paradise whose gentle, smiling, indolent people are being caught up by the industrial whirlwind and the race for a better life. The contrast between modern, crass, noisy Bangkok and the sleepy villages in the boonies and the still fairly quiet, graceful charm of Chiangmai is startling. Elegant Buddhist temples stand among skyscrapers as well as all alone on a mountainside. The hospitality and friendliness of the Thai people are the most gracious in Asia.

Birdlife is prolific here with over 900 species for this small country, offering a wonderful birding experience. Falconets, green-pigeons, malkohas, frogmouths, treeswifts, trogons, kingfishers, bee-eaters, hornbills, barbets, broadbills, pittas, minivets, leafbirds, babblers, laughingthrushes, sunbirds, drongos, and many others will compete for your attention in a dazzling array of color and variety. We will see about 400 species on our three-week tour.

Our visit takes advantage of the dry, cooler weather of winter, and the presence of many Palearctic migrants. The tour encompasses some magnificent scenery, with lush tropical jungles, mountain forests, scenic coastal areas and exotic oriental cities. Thailand combines the new, modern and often crass in Bangkok with the older, gentler traditions of the countryside. It is one of the easiest, friendliest and most comfortable of the countries of southern Asia to look for birds. If you've been looking for a place to have your introduction to Asian birds, this is it.

Anyone in good health will find this tour easy. It is suitable for any age or fitness level. Most birding will be on roads, with some on trails. Bird walks will be slow, relaxed, and not strenuous. Maximum elevation will be 2,500 m. (8,400 ft.) in northern Thailand (one day only). Otherwise about 1,500 m. (5,000 ft.) will be the maximum. Accommodation is excellent, with the only basic (but clean) accommodation at Doi Inthanon. The food is good to superb throughout. Modern buses and minibuses provide transportation.

Those who would like to precede the group to Thailand or remain after the group departs are encouraged to do so. There are many interesting sights to be seen. Our agents in Thailand can make your arrangements. Note that your flights to and from Bangkok should be arranged as far as possible in advance because the northern winter is the most comfortable time to visit.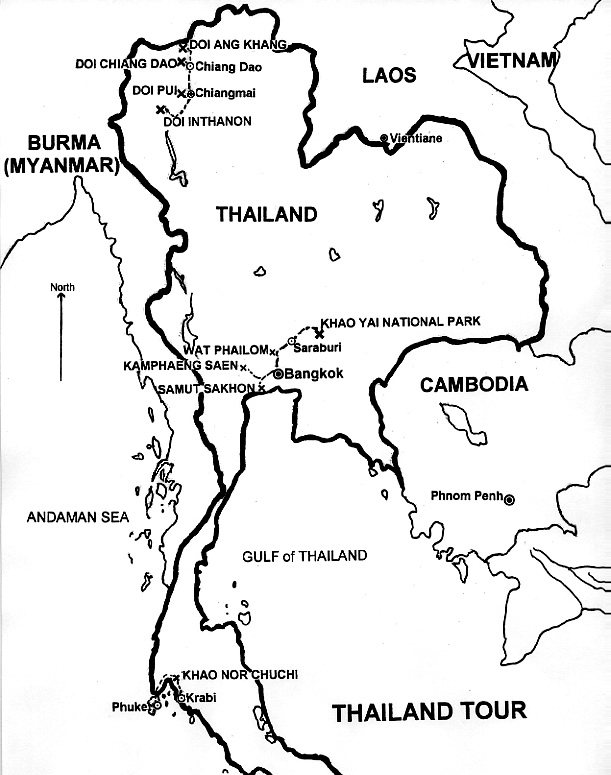 THE LEADER
PHIL ROUND has been living and birding in Thailand for 32 years and has written a complete and excellent revision of Dr. Boonsong Lekagul's A Guide to the Birds of Thailand. Phil's superb study, Resident Forest Birds in Thailand: Their Status and Conservation was published by the International Council for Bird Preservation as their monograph No. 2 in 1988. Phil has seen more species of birds in Thailand (over 800) than anyone. His knowledge of Thai birds, their habits and where they are found is unsurpassed. He is an experienced and thoughtful tour leader, fluent in the Thai language. You'll have a grand experience in Thailand with Phil Round as your leader.
THE BIRDING SITES
KHAO YAI NATIONAL PARK (4 days) lies about 200 km. NE of Bangkok and is a magnificent tropical rain forest, ranging up to 1,200 m. (4,000 ft.) in elevation, with gigantic trees and lush tropical birding. Possible birds are Crested Serpent-Eagle, Rufous-bellied Eagle, Changeable Hawk-Eagle, Collared Falconet, Red Junglefowl, Thick-billed Pigeon, Vernal Hanging-Parrot, Asian Emerald Cuckoo, Green-billed Malkoha, Collared Owlet, Asian Barred Owlet, Brown Boobook, Javan Frogmouth (maybe), Great Eared Nightjar, Red-headed and Orange-breasted Trogons, Banded Kingfisher, Wreathed, Oriental Pied and Great Hornbills, Green-eared Barbet, Black-and-buff and Heart-spotted Woodpeckers, Long-tailed and Banded Broadbills, Blue Pitta, Scarlet Minivet, lots of bulbuls, Large Scimitar-Babbler, White-crested and Black-throated Laughingthrushes, etc. We should see White-handed Gibbon and Sambar Deer, and maybe an Indian Elephant. There are tigers here but the chance of seeing one is very remote.
WAT PHAILOM (half day) supports a large breeding colony of Asian Openbills, a fine stork. Birds abound with: Javan Pond-Heron, Brahminy Kite, Red Turtle-Dove, Asian Koel, Streak-eared Bulbul, Oriental Magpie-Robin, Pied Fantail, Plain-backed Sparrow, Asian Pied and Black-collared Starlings, Black Drongo, and other common birds of the southern central plains area around Bangkok. With luck, we might see one of the 6-foot Monitor Lizards that live there.
SCOUT CAMP AT KAMPHAENG SAEN (half day) is a remnant of central plains forest and scrub and a good place to see some species such as White-browed Crake, Pheasant-tailed and Bronze-winged Jacanas, Greater Paintedsnipe, Plaintive Cuckoo, Greater Coucal, several bulbuls, Common Tailorbird, Black-naped Monarch, Olive-backed Sunbird, and Ashy Woodswallow.
SAMUT SAKHON (half day) is a coastal area west of Bangkok with mangroves, salt pans, and rice paddies. We'll look for Eastern Marsh-Harrier, Lesser Sand-Plover, redshanks, greenshanks, Rufous-necked and Long-toed Stints, Black-winged Stilt, Whiskered Tern, Collared Kingfisher, etc. One or two Spoon-billed Sandpipers have wintered here for the last several years and, with luck, we might see one.
DOI PUI NATIONAL PARK (1 day) is situated on a fine 1,600 m. (5,400 ft.) mountain at the edge of Chiangmai in northern Thailand. It still has some wonderfully rich hill forest with such birds as: Pin-tailed Pigeon, Fork-tailed Swift, Golden-throated Barbet, Asian House-Martin, Bar-winged Flycatcher-shrike, 3 or 4 minivets, 8 bulbuls, Scaly Thrush, Golden Babbler, White-browed and Red-billed Scimitar-Babblers, White-hooded Babbler, Rufous-backed Sibia, Striated Yuhina, numerous warblers and flycatchers, Yellow-cheeked Tit, Velvet-fronted Nuthatch, Maroon Oriole, Lesser Racket-tailed Drongo, and Eurasian Jay.
HUAI HONG KHRAI (1day) is a Royal Development Study Center, set in low hills about 40 km. east of Chiangmai. It is an extensive area of deciduous woodland and plantations, among which are scattered ponds. It has come into prominence because of the discovery of a population of about 80 Green Peafowl here in 1999, which have seemingly built up from a vanishing point due to a cessation of hunting, and the improved protection bestowed by the royal project. We have a good chance of seeing some peafowl. Other species include Lesser Whistlingduck, Asian Barred Owlet, Hainan Blue Flycatcher, Eurasian Jay, and a smattering of other commoner deciduous woodland birds, and a few winter visitors. We'll also explore an area of rice stubble in Doi Saket District, where we'll look for Small Buttonquail, Grey-headed Lapwing, Indochinese and Australasian Bushlarks, plus wintering passerines, including Bluethroats, among other species.
DOI INTHANON NATIONAL PARK (4 days) encompasses Thailand's highest mountain at 2,500 m. (8,400 ft.) and has an excellent paved road right to the summit. The park has a marvelous range of habitats to explore: submontane deciduous forest, mountain grass and scrub, mountain evergreen forest and moss forest. Our days here will be superb birding: Black Baza, Oriental Honey-Kite, Black Eagle, Rufous-throated Partridge, Wedge-tailed Pigeon, Mountain Imperial Pigeon, Banded Bay Cuckoo, Large Hawk-Cuckoo, Brown-backed Needletail, Black-winged Cuckooshrike, Rosy Minivet, Grey Bushchat, Blue Whistlingthrush, Pygmy Wren-Babbler, White-necked and Chestnut-crowned Laughingthrushes, Silver-eared Mesia, Chestnut-fronted Shrike-Babbler, Spectacled Barwing, Chestnut-tailed Minla, Grey-breasted Prinia, Ashy-throated Warbler, Vivid Niltava, Green-tailed Sunbird, etc. There's always something unexpected and exciting here, such as Black-tailed Crake, Green Cochoa, Grey-sided Thrush, Yellow-bellied Flowerpecker, or Black-headed Greenfinch.
DOI CHIANG DAO (1 day) remains one of the best-wooded mountains in northern Thailand, thanks to its precipitous nature. A solid block of limestone, it rises sheer almost 2,100 m. (7,000 ft.) from the plains. We'll drive part way up the mountain's southern flank until we reach the ecotone between broad-leaved forest and pine forest, where there is a good chance of finding the elusive and much sought after Giant Nuthatch, besides a great many other birds, including White-tailed Robin, Grey-headed Parrotbill, Aberrant Bush-Warbler, Buff-throated Warbler, Sapphire Flycatcher (maybe), Crested and Chestnut Buntings, and Common Rosefinch.
DOI ANG KHANG (2 days), though largely deforested, holds many birds which only just get into the far north of Thailand. We'll be looking for Mountain Bamboo-Partridge, Crested Finchbill, Brown-breasted Bulbul, Rusty-cheeked Scimitar-Babbler, White-browed Laughingthrush, Red-faced Liocichla, Spot-breasted Parrotbill, and Little Bunting, among others. Hume's Pheasant is possible. Doi Ang Khang has a real frontier flavor and one of our birding spots is near a Kuomintang Chinese village, where Yunnanese refugees who fled from China in 1949 have established themselves. With its fruit orchards, dry-stone walls and pack-ponies the area bears more resemblance to parts of southwestern China than it does to the rest of northern Thailand. Doi Ang Khang lies smack on the border with the Shan states of Burma, and range after range of rugged hills stretch away into the golden haze. Though security in our birding areas is assured, thanks to the elite Thai Border Patrol Police, the knowledge that opium country starts beyond the nearest ridge always adds a certain piquancy to every visit.
KRABI (4 days): Our sojourn in Krabi is aimed at providing a whole new range of species. The bird fauna of southern Thailand bears more resemblance to that in Malaysia than it does to that in the rest of the country, but there is also the added interest of a small number of birds which are scarce or difficult in Malaysia, as well as one, Gurney's Pitta, which is endemic to the Thai peninsular provinces and the extreme southern tip of Burma.
We'll stay in a delightful coastal resort near the town of Krabi and commute some 60 km. to Khao Nor Chuchi--the last significant remnant of true lowland forest in southern Thailand. Besides the gorgeous Gurney's Pitta, we'll be looking out for other scarce rain-forest birds, such as Black-and-white Bulbul, Thick-billed Spiderhunter and many others--including Black-thighed Falconet, Scarlet-rumped Trogon, Maroon Woodpecker, Green Broadbill, Banded Pitta, Orange-headed Thrush, Chinese Flycatcher, and Red-throated and Purple-naped Sunbirds. Closer to our hotel, we'll be taking a boat trip: first through the winding mangrove creeks, in search of Pied Imperial Pigeon, Brown-winged Kingfisher, Streak-breasted Woodpecker, Mangrove Pitta, Copper-throated Sunbird (and, if we are lucky, Masked Finfoot and Ruddy Kingfisher) besides much more. Secondly, we'll explore the sandbanks by the river mouth for a host of shorebirds, including Chinese Egret, Pacific Reef-Egret, Nordmann's Greenshank, Great Knot, and Great and Lesser Crested Terns.
THE ITINERARY
| | |
| --- | --- |
| Saturday | Depart USA. |
| Sunday | Arrive Suvarnabhumi Airport Bangkok. Overnight Novotel Bangna Hotel. |
| 18 days | On tour. |
| Saturday | Midday flight Krabi/Bangkok. Overnight Novotel Bangna Hotel. |
| Sunday | Depart Bangkok. |
TOUR CONDITIONS

AIR CONSIDERATIONS: The tour begins and end in Bangkok. Your internal Thailand air tickets will be purchased by us in Bangkok and handled by the tour leader to ensure keeping the group together. Please plan to arrive in Bangkok a day or two early to ensure timely arrival and allow a little time to get over jet lag.

PARTICIPANT LIMIT:10 persons, plus the leader.

LAND PRICE BASED ON NUMBER OF PARTICIPANTS: Land price is based on the number of participants.

LAND PRICE INCLUDES: Land price includes all ground transportation, double occupancy hotel rooms, all meals, bottled water at meals, guides, tips, fees, and foreign airport taxes when accompanied by the leader. NOT INCLUDED are airport taxes when not accompanied by the leader, passports, visas, service charges for obtaining visas, excess baggage charges, laundry, personal tips, alcoholic beverages, soft drinks, fruit juices (except at breakfast), mineral waters, room service charges, items not on menu of included meals, personal items, souvenirs, sightseeing not included in the itinerary, insurance of any kind, and telephone calls.

We do not provide transfers for initial arrival in Bangkok and final departure. This is because participants tend to arrive at different times and individual transfers are expensive and sometimes go awry. The Novotel Bangna Hotel operates a free shuttle service. If you can't find them, reasonably priced and reliable limousine, bus and taxi services (as well as a bank) are available in the arrival hall of Bangkok Airport. The Novotel Bangna Hotel is 10-15 minutes from the airport.

LAND AND AIR RATES: All prices are based on tariff and exchange rates in effect for this group. Price changes, due either to alteration in tariffs or exchange rates, will be reflected in the prices charged for the tour. KingBird's planning, promotional and operating costs are included in all tour rates.

ACCOMMODATIONS: Based on two persons sharing a twin-bedded room. Single rooms will be available at the supplement charge quoted. In some of the more remote areas, however, single rooms are unavailable. We'll supply roommates where possible, but cannot guarantee to find roommates for all desiring them. If no roommate is available, the single supplement will be charged for any person utilizing single accommodation. First class or best available hotels with private bath and air conditioning are provided where available. However, some accommodation will be rather basic (but clean).

MEALS: All meals are included in the tour price. A la carte meals will be provided on some days. Box lunches will be utilized on some days. For those joining only a segment of the tour, meals are normally not included when you are not with the main tour group (prior to joining or after leaving).

TOUR ESCORT: The leader of your tour, Phil Round, will be with you during the entire tour. There will also be a representative of the local tour company with the group at all times to assist wherever he may.

TAXES AND GRATUITIES: All necessary gratuities to hotel staff, waiters, local guides, drivers, etc. are included in the tour price. Your tour leader is paid a salary and does not expect tips. Thus all necessary tips are included in the tour price and you are not expected to tip anyone. However, if you do wish to tip anyone for special services or because you like them, it is quite all right. All local government taxes are included in the tour price.

LOCAL FEES: All park and entry and local fees are included in the tour price.

BAGGAGE: International flight baggage allowance from the USA to Bangkok and return is two pieces with a maximum total dimension (length, width, height of both pieces added up) of 107 inches. Note that most USA-based airlines now allow only 23 kg. (50 lbs.)/bag—there will be a surcharge for any excess up to 70 lbs. (32 kg.). On many foreign airlines, each bag may weigh up to 32 kilograms (70 pounds). However, on all internal flights in Thailand, you are allowed a maximum of 20 kg. (44 lbs.). They are likely to weigh your luggage carefully at least once or twice and perhaps each time. You will be responsible for any excess baggage charges. You are allowed one carry-on bag on all flights. Technically the 44-pound limit includes your carry-on bag and occasionally a zealous agent will demand that the rule be followed. Air carrier's liability for baggage loss is limited and therefore baggage insurance is recommended and available at nominal rates. Baggage insurance forms will be included along with your interim invoice.

SMOKING RULES:

(1) NO smoking in vehicles.

(2) NO smoking at meal tables.

(3) NO smoking in bedrooms if your roommate does not smoke.

(4) The smoker is expected to see that his smoke does not move toward other tour members at all times.

(5) Anyone smoking will be last in line on single-file paths or trails.
---