VIETNAM TOUR
23 days

At last, it has become possible to operate a birding tour to this exotic and ill-starred country. Vietnam has taken a whale of a beating, but fortunately, there are still some good patches of forest left and most of its special bird species can still be found. We'll visit lowland and highland forest areas in both north and south for a complete survey of Vietnam's birds. While the country is still poor, there is lots of hustle and bustle as the country lurches toward capitalism. With each visit we see new and upgraded accommodations, roads and food.
This tour is designed to give us enough time to find most of the following special target species: Black-faced Spoonbill, Pied Falconet, Bar-backed and Scaly-breasted Partridges, Silver Pheasant, Siamese Fireback, Germain's Peacock-Pheasant, Green Peafowl, Russian (Larus heuglini), Mongolian (L. mongolicus), and Saunders's Gulls, Blue-spectacled Pigeon, Red-vented Barbet, Bar-bellied Pitta, Chestnut Bulbul, Spot-throated Babbler, Red-billed and Coral-billed Scimitar-Babblers, Limestone Wren-Babbler, Grey-faced Tit-Babbler, Black-hooded, Grey, White-cheeked, Spot-breasted and Collared Laughingthrushes, Rufous-throated and Black-browed Fulvettas, Grey-crowned Crocias, Black-headed Sibia, Blue-spectacled Parrotbill, Fujian Niltava, White-tailed Flycatcher, Yellow-billed Nuthatch, Vietnamese Greenfinch, White-winged and Indochinese Magpies, and Ratchet-tailed Treepie.
Other special species which are possible but difficult: Orange-necked Partridge, Grey Peacock-Pheasant, Pale-capped Pigeon, Nordmann's Greenshank, Spoon-billed Sandpiper, Red-collared and Pale-headed Woodpeckers, Blue-naped, Blue-rumped and Blue Pittas, Short-tailed Scimitar-Babbler, and Short-tailed Parrotbill. With luck, we'll see one or two of these. There is a remote possibility of a White-shouldered Ibis or White-winged Duck. Our total trip list will be over 300 species, which will include many more widespread SE Asian species.
Because the special birds we want to see are mostly scarce and difficult to find, most of our time will be dedicated to seeing them. While we'll see many more widespread SE Asian species in the course of our birding, we sometimes won't have time to pursue them. This could be frustrating to first time visitors to SE Asia. On the other hand, the opportunity to see these exotic birds before it's too late must be considered. Hunting, trapping and forest destruction are proceeding at a rapid rate, insuring that the special birds of Vietnam will rapidly become rarer and more difficult to see.
This tour is not particularly demanding physically. With good health and fairly good physical condition you'll be fine. The accommodations will be basic at 3 of our birding sites. There will be hot water for bathing everywhere we stay (except for our two nights in the Red River Delta). Food will be basic to excellent. There will be several long drives on poor roads. There will be some long walks. There will be some rain, mud and heat. You'll need a good sense of adventure. Having said all that, it's going to be a great trip.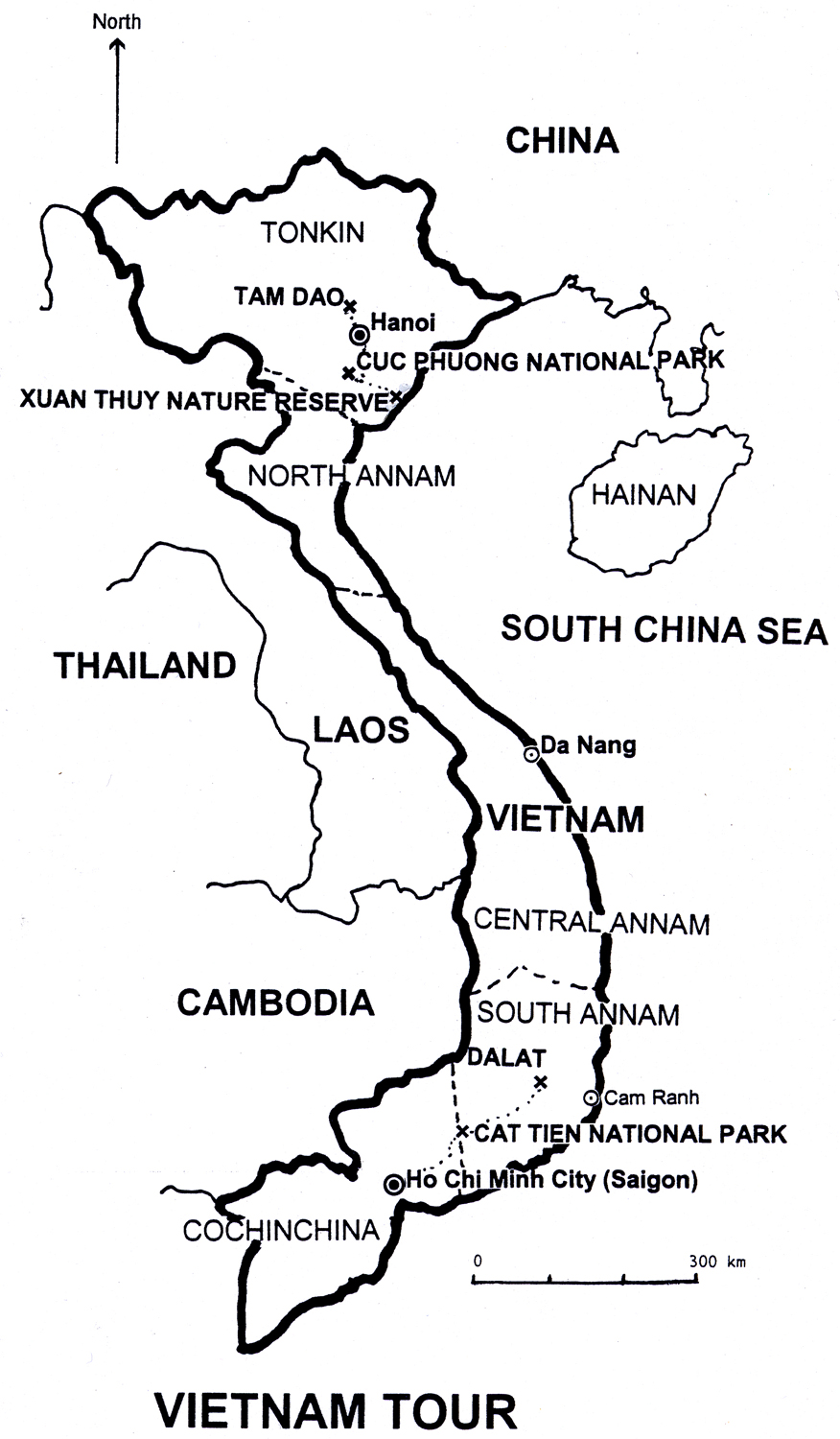 THE LEADER

BEN KING, president of KingBird Tours, has led 144 birding tours to different parts of Asia and is one of the most experienced bird tour leaders on that continent. His A Field Guide to the Birds of South-East Asia covers Vietnam's birds and he has spent over 6 years birding in various parts of SE Asia: Thailand, Malaya, Burma, Vietnam, Laos and Cambodia, enabling him to see all but 5 or 6 of the species of birds known from SE Asia. He has led our previous 7 tours to Vietnam and done 3 exploratory trips there. He has also written Checklist of the Birds of Eurasia. His vast experience and knowledge of Asian birds, their habits, and where they are found will make your trip a productive and enjoyable one.
THE BIRDING SITES
XUAN THUY NATURE RESERVE (2 days) in the Red River Delta is a superb area for wintering shorebirds. The stars of the area are the Black-faced Spoonbill, Nordmann's Greenshank (maybe), Spoon-billed Sandpiper (maybe), and Saunders's Gull, all of which spend the winter, along with a host of other shorebirds, including Great Knot and Broad-billed Sandpiper. Russian Gull (Larus heuglini) is likely, while Mongolian Gull (Larus mongolicus) is possible. We may also see Grey-lag Goose, Pied Harrier, Eastern Marsh-Harrier, and Red-billed Starling.
CUC PHUONG NATIONAL PARK (3 days) is a lowland area (150-200 m.) with some good remnant forest, about 3 hours south of Hanoi. It is a rich area and we should see: Pied Falconet, Red-vented Barbet, Bar-bellied Pitta, Limestone Wren-Babbler, Rufous-throated and Black-browed Fulvettas, Fujian Niltava, White-tailed Flycatcher, White-winged Magpie, and Ratchet-tailed Treepie. Other likely species: Silver Pheasant, Red-headed Trogon, Green-eared Barbet, Silver-breasted and Long-tailed Broadbills, Black-breasted, Grey-backed and Japanese Thrushes, Buff-breasted Babbler, Large Scimitar-Babbler, Black-throated Laughingthrush (dark-cheeked race), Sulfur-breasted Warbler, Sultan Tit, and Indochinese Magpie. With luck, we might see Chestnut-necklaced Partridge, Grey Peacock-Pheasant, White-bellied Pigeon, Blue-eared Kingfisher, Brown Hornbill, Red-collared Woodpecker, Blue-rumped or Eared Pitta, Rufous-tailed or White-tailed Robin, Short-tailed Scimitar-Babbler, or Asian Stubtail.
TAM DAO (3 days) is about 3 hours drive NNW of Hanoi at about 1,200 m. elevation. Perpetually shrouded in fog in winter, it will be cool and damp. Our birding will be walking distance from accommodations. Likely birds are: Bay Woodpecker, Chestnut Bulbul, Red-billed and Coral-billed Scimitar-Babblers, Eye-browed and Streaked Wren-Babblers, Spot-necked Babbler, Grey and Black-throated (white-cheeked race) Laughingthrushes, Black-chinned Yuhina, Blue-spectacled Parrotbill, Slaty-bellied Tesia, and Fork-tailed Sunbird. We might see one of the following: Blue-naped Pitta, Red-tailed Laughingthrush, Spectacled Barwing, Short-tailed Parrotbill, White-gorgetted Flycatcher, or Collared Treepie.
CAT TIEN NATIONAL PARK (4 days) is an extensive, mostly forested area of about 36,000 hectares at about 100 meters elevation. There is some seasonal swamp forest in the park. It offers superb birding with the following likely special species: Orange-necked (maybe) and Scaly-breasted Partridges, Siamese Fireback, Germain's Peacock-Pheasant, Green Peafowl, Red-vented Barbet, and Grey-faced Tit-Babbler. Other birds in the area are: Yellow Bittern, Black Baza, Grey-headed Fish-Eagle, Crested Goshawk, Rufous-bellied Eagle, Collared Falconet, Blue-breasted Quail, Watercock, Purple Swamphen, Pink-necked, Orange-breasted, Pompadour, and Thick-billed Pigeons, Asian Emerald and Violet Cuckoos, Javan Frogmouth, Silver-backed Needletail, Orange-breasted Trogon, Banded Kingfisher, Blue-bearded Bee-eater, Wreathed, Oriental Pied, and Great Hornbills, White-browed Piculet, Laced, Black-and-buff and Heart-spotted Woodpeckers, Dusky and Banded Broadbills, Forest Wagtail, Black-winged Cuckooshrike, Brown-rumped and Ashy Minivets, Purple-throated Sunbird, Vinous-breasted Starling, Golden-crested Myna, and Racket-tailed Treepie.
More difficult are: White-shouldered Ibis, White-winged Duck, Jerdon's Baza, Tawny and Brown Fish-Owls, and Pale-headed Woodpecker.
DALAT (6 days) is a highland resort, a respite from the summer heat. We check out several forested areas between 1,100-2,100 m. (3,700-7,000 ft.) elevation, including Mt. Langbian, Ho Tuyen Lam, Ta Nung Valley, and Deo Nui San. Special species we are likely to see in this area are: Black-hooded, White-cheeked, Spot-breasted and Collared Laughingthrushes, Grey-crowned Crocias, Black-headed Sibia, Grey-crowned Tit (Aegithalos annamensis), Yellow-billed Nuthatch and Vietnamese Greenfinch. Other species present are: Black Eagle, Chinese Francolin, Bar-backed Partridge, Silver Pheasant, Blue-spectacled and Wedge-tailed Pigeons, Black-browed Barbet, Blue Pitta, Ashy Bulbul, Burmese Shrike, White-tailed Robin, Spot-throated Babbler, Red-billed Scimitar-Babbler, Silver-eared Mesia, Cutia, Chestnut-fronted Shrike-Babbler, Grey-headed Parrotbill, Grey-bellied Tesia, Brown Prinia, White-spectacled and Grey-cheeked Warblers, Mugimaki and Rufous-browed Flycatchers, Yellow-cheeked Tit, Red Crossbill, Maroon Oriole, Green Magpie, and the spectacular golden-breasted form of the Indochinese Magpie. With a lot of luck we might see Rufous-throated Partridge, Pale-capped Pigeon or Short-tailed Scimitar-Babbler. This area has some quite distinct subspecies that are likely candidates for full species, e.g., Spot-breasted Laughingthrush, Rufous-backed Sibia, Grey-headed Parrotbill, Black-throated Sunbird, and Red Crossbill.
THE ITINERARY
Sunday

Arrive Hanoi.
Overnight Sunway Hotel.

18 days

On tour.

Saturday

Morning birding. Afternoon drive to Ho Chi Minh City. Overnight New World Hotel.

Sunday

Depart Ho Chi Minh City.
TOUR CONDITIONS
AIR CONSIDERATIONS: The tour begins in Hanoi and ends in Ho Chi Minh City (Saigon). Be sure your international air ticket reflects this. Your internal Vietnam ticket (Hanoi to Ho Chi Minh City) will be purchased by us to ensure keeping the group together, and is included in the land price. We recommend arriving in Hanoi a day or two early to ensure timely arrival and allow some time to overcome jet lag.
PARTICIPANT LIMIT: 10 persons, plus the leader.
LAND PRICE BASED ON NUMBER OF PARTICIPANTS: Land price is based on the number of participants.
LAND PRICE INCLUDES: Land price includes all ground transportation, double occupancy hotel rooms, all meals, bottled water at meals, guides, tips, fees, and foreign airport taxes when accompanied by the leader. NOT INCLUDED are airport taxes when not accompanied by the leader, passports, visas, service charges for obtaining visas, excess baggage charges, laundry, personal tips, alcoholic beverages, soft drinks, fruit juices (except at breakfast), mineral waters, room service charges, items not on menu of included meals, personal items, souvenirs, sightseeing not included in the itinerary, insurance of any kind, and telephone calls.
LAND AND AIR RATES: All prices are based on tariff and exchange rates in effect for this tour. Price changes, due either to alteration in tariffs or exchange rates, will be reflected in the prices charged for the tour. KingBird's planning, promotional and operating costs are included in all tour rates.
ACCOMMODATIONS: Based on two persons sharing a twin-bedded room. Single rooms will be available at the supplement charge quoted. In some of the more remote areas, however, single rooms are unavailable. We'll supply roommates where possible, but cannot guarantee to find roommates for all desiring them. If no roommate is available, the single supplement will be charged for any person utilizing single accommodation. First class or best available hotels with private bath and air conditioning are provided where available. However, much accommodation will be basic.
MEALS: All meals are included in the tour price. A la carte meals will be provided on some days. Box lunches will be utilized on some days. For those joining only a segment of the tour, meals are normally not included when you are not with the main tour group (prior to joining or after leaving).
TOUR ESCORT: The leader of your tour, Ben King, will be with you during the entire tour from the time you reach Hanoi until you depart from Ho Chi Minh City. There will also be a representative of the local tour company with the group at all times to assist wherever he may.
TAXES AND GRATUITIES: All necessary gratuities to hotel staff, waiters, local guides, drivers, etc. are included in the tour price. Your tour leader is paid a salary and does not expect tips. Thus all necessary tips are included in the tour price and you are not expected to tip anyone. However, if you do wish to tip anyone for special services or because you like them, it is quite all right. All local government taxes are included in the tour price.
LOCAL FEES: All park and entry and local fees are included in the tour price.
BAGGAGE: International flight baggage allowance from USA to Vietnam and return is two pieces with a maximum total dimension (length, width, height of both pieces added up) of 107 inches. Note that most US-based airlines now allow only 23 kg. (50 lbs.)/bag (you will be charged for any excess). On many foreign airlines, each bag may weigh up to 32 kilograms (70 pounds). However, on all internal flights in Asia, you are allowed a maximum of 20 kg. (44 lbs.). They are likely to weigh your luggage carefully at least once or twice and perhaps each time. You will be responsible for any excess baggage charges. You are allowed one carry-on bag on all flights. Technically the 44-pound limit includes your carry-on bag and occasionally a zealous agent will demand that the rule be followed. Air carrier's liability for baggage loss is limited and baggage insurance is recommended. Baggage insurance forms will be included with your interim invoice.
SMOKING RULES: (1) NO smoking in vehicles. (2) NO smoking at meal tables. (3) NO smoking in bedrooms if your roommate does not smoke. (4) The smoker is expected to see that his smoke does not move toward other tour members at all times. (5) Anyone smoking will be last in line on single-file paths or trails.
---